In April, my 10 clean energy stocks model portfolio continued to power ahead, despite the concerns about market valuation I expressed last month.  As I said at the time "me being nervous about the market is not much of an indicator that stocks are going to fall" at least in the short term.  So I continue to trim winning positions and increase my allocation to cash as stocks advance.
Both the model portfolio and the Green Global Equity Income Portfolio (GGEIP) were up 4.5% and 3.6% respectively in April.  This was solidly ahead of their clean energy income benchmark YLCO and broad market income benchmark SDY, which were up 0.3% and 2.1% respectively.  For the year to date, both real and model portfolios remain well ahead of their benchmarks as well.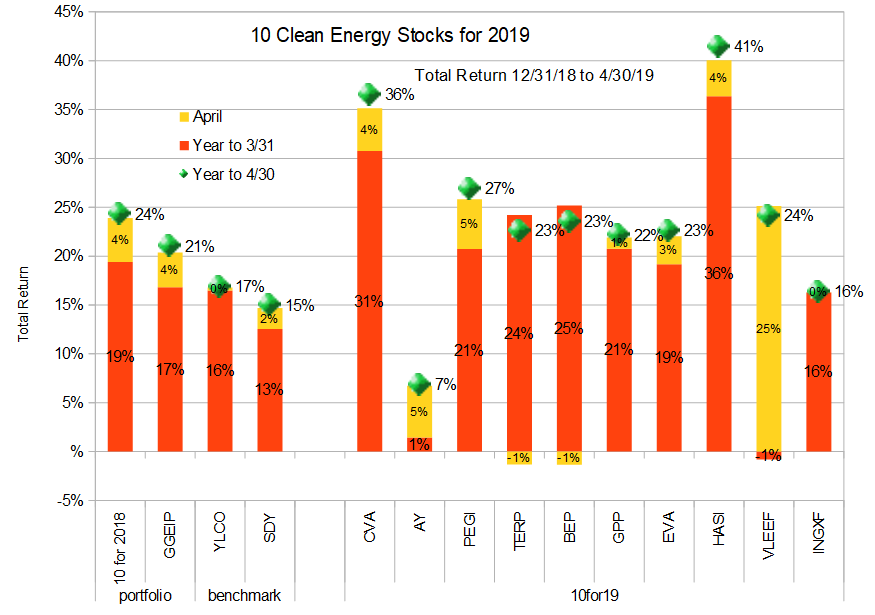 The one stock I said I was not trimming last month was Atlantica Yield, PLC (NASD:AY), which turned in a healthy 5% gain in April.  I continue to hold.  The big winner was Valeo SA (FR.PA, VLEEF), which shot up 25%. I also mentioned Valeo as one which still had an attractive valuation, but I was more cautious because Valeo is also much more volatile than the other stocks in the list.  While this parts supplier for efficient, electric and autonomous vehicles can accelerate like an EV when market is good, it can also fall off a cliff if the market turns too rapidly.
Covanta Holding (CVA) was the first stock in the model portfolio to announce first quarter earnings, covered that in more detail here.
Disclosure: Long PEGI, CVA, AY, TERP, BEP, EVA, GPP. INGXF, HASI, VLEEF.

DISCLAIMER: Past performance is not a guarantee or a reliable indicator of future results.  This article contains the current opinions of the author and such opinions are subject to change without notice.  This article has been distributed for informational purposes only. Forecasts, estimates, and certain information contained herein should not be considered as investment advice or a recommendation of any particular security, strategy or investment product.  Information contained herein has been obtained from sources believed to be reliable, but not guaranteed.