by Jim Lane
COVID-19 has changed the way we do things…like drink more alcohol, wash our hands more, wear a mask, limit our gatherings and trips, but positive things have come about too. More time to connect with friends and family via online tools, a new respect for healthcare, agriculture and other essential workers, breathing cleaner air, and finding new ways to connect, entertain and innovate. Even in the bioeconomy, companies are doing the "pandemic pivot" and creating innovations to improve our future.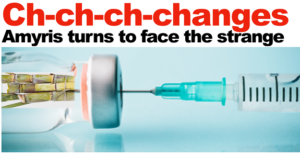 We've covered how the ethanol industry jumped in to save the day with hand sanitizer production, but today we look at how bioinnovator, Amyris (AMRS), is taking a different approach to fighting COVID-19.
In today's Digest, how Amyris reminds us of David Bowie's "Changes" song and how they are 'turning to face the strange' with their sugarcane-derived squalene vaccine adjuvant, how their business is not only surviving but thriving in today's changing world, and more.
Fighting back with vaccines
First, let's start with the big news from Amyris that they signed a binding term sheet for a planned COVID-19 RNA (ribonucleic acid) vaccine technology program with The Infectious Disease Research Institute (IDRI).
The program combines IDRI's expertise in combating infectious diseases with Amyris' fermentation platform technology, with the goal to create semi-synthetic squalene-based adjuvants at scale. IDRI's RNA vaccine platform is expected to offer significant differentiated advantages over other RNA vaccines currently in development and will be further enhanced by a scalable Amyris adjuvant.
The Critical Role of Adjuvants in Vaccines
Adjuvants are added to vaccines as an excipient to enhance their effectiveness and are typically sourced from shark-based squalene, a non-sustainable and non-scalable resource. Amyris' fermentation technology, which replaces shark-derived squalene with lower cost sugarcane-derived squalene, is capable of delivering greater availability facilitating access to adjuvants by large parts of the population. Amyris' squalene is targeted to be functionally identical to shark-based squalene and will be certified as such as one of the last steps to commercialization.
"The combination of IDRI's leading RNA vaccine platform technology combined with Amyris' sustainably-derived adjuvant has the potential to lead on efficacy for a COVID-19 vaccine solution and potentially play a major role in other vaccine solutions to help mitigate potential future pandemics," said IDRI's CEO Dr. Corey Casper. "Without adjuvants, vaccines are not maximally effective, and a shortage of existing shark-based adjuvant supply could prove devastating in the future, underlining the importance of this anticipated partnership."
"We are pleased to partner with IDRI to combat COVID-19 and deliver a significant breakthrough for vaccine technology into the future," said John Melo, Amyris President and CEO. "We believe synthetic biology can play a significant role in scaling vaccines and therapies that meet the needs of global health crises. Making the world's rarest chemistry available and affordable has been Amyris' purpose since its founding in 2003. Soon after its founding Amyris partnered with the Bill and Melinda Gates Foundation and created an alternative supply source through fermentation for artemisinin, a first-line treatment for malaria that is still recommended by the World Health Organization today. Many organizations are working toward a COVID-19 vaccine solution, with uncertain outcomes. IDRI's expertise in vaccines combined with our leading synthetic biology platform presents a real opportunity to deliver the most scalable and highest efficacy vaccine for COVID-19. We are focused on a second-generation solution that is better performing and can deliver a sustainable platform for vaccines to address future pandemics. We expect first commercial supply of our leading vaccine adjuvant by the end of this year and, assuming successful trials, could have a successful vaccine platform next year."
Amyris and IDRI anticipate executing a comprehensive agreement after which additional details of the proposed program will be disclosed. In the interim, work on advancing the vaccine is continuing to ensure accelerated time to market.
Not just surviving but thriving
And while many biofuel, biomaterial, biochemical and other bio-related companies are struggling, Amyris has had a solid first half of 2020. They just announced their second quarter 2020 results demonstrating a record quarter for consumer brands with 3X revenue growth, the lowest cash operating expenses in five quarters, and $200 million private placement that significantly reduced debt and debt servicing expense.
Here are some more of their Q2 2020 highlights:
Completed $200 million private placement during Q2; largest raise in the history of the company.
Reduced debt by $121 million or 40% since start of 2020. Improves H2 2020 debt servicing cash costs by $30 million.
Q2 Recurring Revenue for Consumer & Ingredients of $26 million more than doubled YOY. Record quarter for Consumer brands with revenue tripling YOY from strong online sales. Ingredients Revenue grew in excess of 50% year-over-year.
Cash Operating Expenses of $43 million were the lowest in the five sequential quarters and down 6% versus prior year. Lower G&A and R&D expense was partly reinvested in consumer brands.
Signed commercial partnership for Purecane™ in commercial baking applications with AB Mauri.
Signed term sheet for a scientific partnership with Infectious Disease Research Institute (IDRI) to create RNA vaccine platform.
Reaction from the stakeholders
"Our business and our people have shown strong resilience during these unprecedented times. Keeping everyone safe has been our number one priority while continuing to grow revenue and improve operations. COVID has certainly had an impact in how we operate the business. For example, COVID has impacted progress with third party manufacturing," said John Melo, President and Chief Executive Officer. "Lower consumer revenue from store closures was mitigated by consumers transitioning online. Our consumer brands saw record revenue in the quarter and, for the first time, was equal in size to our ingredients portfolio. We expect second half consumer revenue to more than double that of the first half of this year. This shift in our portfolio will continue with significantly larger sustainable and predictable product revenue relative to collaboration programs."
Continued Melo, "We have executed on commercial and scientific strategic partnerships such as Purecane in commercial baking applications with AB Mauri and to create an RNA vaccine platform with IDRI. Our focus on improvement of operational economics as it relates to scale-up of both new ingredients and our young brands continues, and we made significant progress on improving our capital structure. During Q2, we raised $200 million from a private placement with high-quality investors of which 70% were new and 90% with a health care, biotechnology and/or long orientation."
Strategic Priorities
The strategic priorities Amyris set out at the start of 2020 support their goals for growth, sustained cash generation, and profitability.
Strategic Priorities
Q2 Progress
1
High growth consumer brands
· Record quarter for Consumer brands with revenue tripling YOY from strong online sales· Pipette brand grew 10X versus Q1 2020
2
Scientific and commercial collaboration
· Commercial partnership with AB Mauri for Purecane in commercial baking applications· Scientific partnership with IDRI for rights to their RNA vaccine platform
3
Supply chain optimization
· Continued production efficiencies with squalane for Clean Beauty and Personal Care· 60% higher ingredients production output in H1 and improved unit costs

· Advanced squalene adjuvant to commercial scale-up

· Construction of our Brazil plant continues with full commissioning expected by Q4 of 2021

4
Improved balance sheet, earnings and cash flow
· Completed $200 million private placement· Reduced debt by $121 million or 40% since start of 2020. Improves H2 2020 cash debt servicing by $30 million
Full Year 2020 Outlook
When looking to the future, no one can predict what it holds but Amyris notes "Based on current estimates, the full year Sales Revenue target indicates approximately 44% growth versus 2019 GAAP sales revenue of $153 million, and approximately 80% versus 2019 recurring sales of $104 million. Based on expected sales mix, Gross Margin is expected to be between 55-60% of revenue. Adjusted EBITDA is expected to turn positive during Q4 of this year. COVID continues to present significant uncertainties to which we do not have full visibility."
Bottom Line
While most companies in the bioeconomy are throwing out the crystal ball completely, it doesn't mean companies are just giving up on predicting what might happen and preparing for all sorts of scenarios. And that's what sets successful companies apart from others – the savviness to work with the current situation and make the best of it, going outside the box or comfort zone to come up with creative ways to survive the current time, and the vision to consider possible future challenges, creating scenarios and action items for each of them and being prepared yet adaptable and flexible for whatever may come.
So whether you prefer the classic David Bowie "Ch-ch-changes, Turn and face the strange, Ch-ch-changes" song or the more modern Sigma version "This ain't what I signed up too, This ain't right, it's no good, No good, oh, Everything is changing", remember that while there are lots of changes going on, some of them are good.
Jim Lane is editor and publisher  of Biofuels Digest where this article was originally published. Biofuels Digest is the most widely read  Biofuels daily read by 14,000+ organizations. Subscribe here.