The Kroger Company (KR:  NYSE) has been around since the late 1800s.  It has developed into a major retailer of a broad range of food products in its supermarkets that also feature specialty sections such as pet centers, electronics, apparel, toys, and pharmacies.  Kroger stock is selling at a bargain multiple of 6.6 times trailing earnings.  The 2.0% current dividend yield is icing on Kroger's cake.
Kroger is distinguished among other grocery retailers with its pledge to achieve zero waste.  The company is aiming to recycle or reuse at least 90% of its waste.  Sustainable product packaging is a central part of its zero waste plan.  For example, Kroger is using a new plastic milk jug that requires 10% less plastic compared to regular plastic jugs.  The company is also revising instructions on its Our Brands private label to promote recycling.
Before investors run out to buy the valued-price stock of a seemingly 'green' grocer, it is worthwhile to look more closely at Kroger.  It is apparent the company works closely with its suppliers on packaging.  The company issues annually its "Packaging Supplier Resource Guide" to set standards for packaging.  However, the guide is all about artwork and branding.  The word 'recycling' appears only twice in the guide and then only in reference to the mandatory logo of circular arrows prescribed for all industries.  A great deal could be accomplished toward eliminating packaging waste if Kroger used its position with suppliers to encourage better packaging, but at least this one of its regular communication mechanisms with its suppliers is silent on the topic.
Indeed, at this point Kroger seems to talking about zero waste, but in reality adding to waste.  Kroger Ship was initiated in 2018, to capture a share of the rapidly expanding market for grocery delivery to the home.  That is certain to ADD to the packaging waste problem even as the Kroger executives tout their zero waste plans.  Even Kroger's own advertising images show a pile of cardboard on a front porch.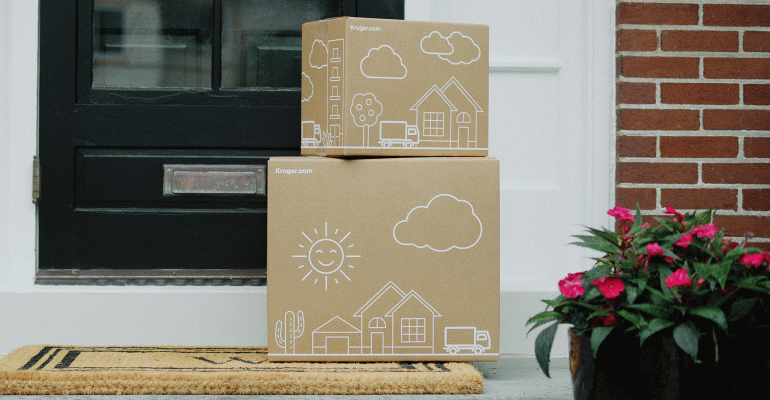 The missed opportunity is similar to the company's performance in removing toxic chemicals from foods.  Kroger earned a D+ grade from Mind the Store, a non-profit industry watchdog that rates retailers on product toxicity.  The company has eliminated beauty products with parabens, phthalates and formaldehyde but still sells canned food with BPA (Bisphenol A) content in the can liners. Surprisingly, Kroger ranks 20thamong 40 different retailers in its peer group, revealing that half of retailers in the group have a score of D or F.  Kroger seems quick to showcase new programs that 'look and sound' environmentally friendly, but its regular operations and market initiatives seems be moving along with yesterday's practices.