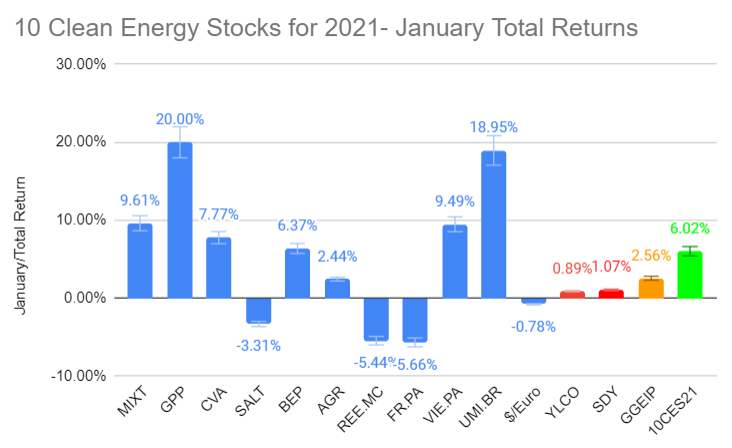 You can find the original list here.  I'll be doing commentary on individual stocks as there is news.  The first of these is on MiX Telematics (MIXT) earnings, first published for my Patreon subscribers on January 28th and copied below.  A note on Scorpio Bulkers (SALT) from February first will be published here tomorrow.
MiX Earnings
MiX Telematics (MIXT) reported earnings this morning [January 28th].  The numbers showed improvement over the previous quarter, but a decline over the previous year due to the covid crisis which was exacerbated by the strengthening dollar.
The results were pretty much what I expected when I added MiX to the 10 Clean Energy Stocks for 2021 list.
In that article, I wrote:  "[C]ovid has led many businesses to take a new look at what parts of their operations can be handled online and remotely.  This should provide a lasting boost to the vehicle telematics industry in general."
Stefan Joselowitz, Chief Executive Officer of MiX Telematics was quoted in the press release saying, "As we look ahead, we are very encouraged by the strategic conversations we are having with large fleet operators on the greater role telematics will play in their future operations. This gives us confidence MiX is well positioned to return to attractive subscription revenue growth rates once the economy normalizes."
I take that as confirmation of my thesis.
DISCLOSURE: Long MIXT and all other stocks in the list.
DISCLAIMER: Past performance is not a guarantee or a reliable indicator of future results.  This article contains the current opinions of the author and such opinions are subject to change without notice.  This article has been distributed for informational purposes only. Forecasts, estimates, and certain information contained herein should not be considered as investment advice or a recommendation of any particular security, strategy or investment product.  Information contained herein has been obtained from sources believed to be reliable, but not guaranteed.