by Tom Konrad, Ph.D., CFA
An annual tradition, here is my Ten Clean Energy Stocks for 2021, which is also the new model portfolio for the year, with equal dollar values of each stock using closing prices on 12/29/2020.   
Returning Stocks
New Stocks
As I track this model portfolio over the year, I will continue using the Global X YieldCo & Renewable Energy Income ETF (YLCO) as a clean energy benchmark and the SPDR S&P Dividend ETF (SDY) as a broad market benchmark, while throwing in the performance of my real money managed portfolio, the Green Global Equity Income Portfolio (GGEIP) for good measure.  The chart below shows preliminary numbers for 2020.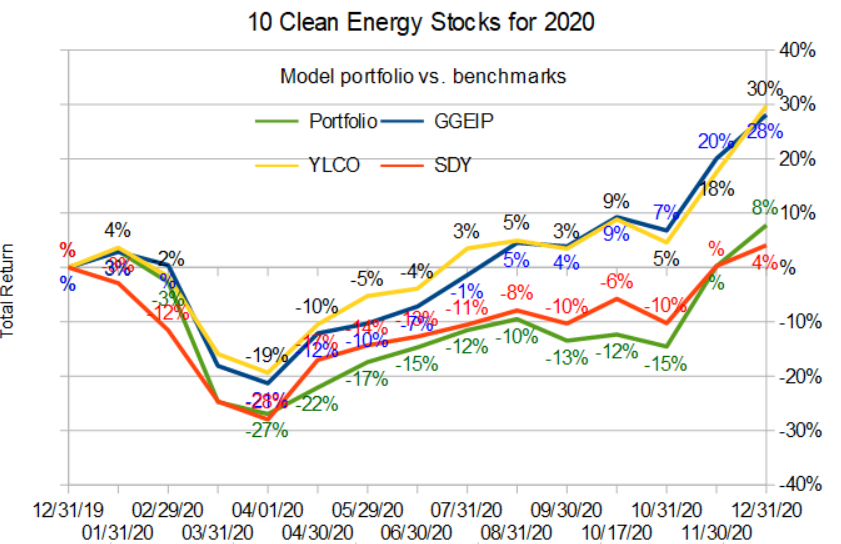 As I discussed last week, this was another difficult year to find clean energy stocks that I think are good values.  It's a great thing for the planet that the fossil fuel divestment movement seems to be driving up the prices of clean energy stocks, but it makes life harder for value investors like me.
Given the high valuations, I think it's important to keep some cash on the sidelines, but my track record on calling market tops is abysmal, so I never get totally out of the market.  
I'll be following up this list with a series of articles looking at the individual holdings in depth over the next week.  My Patreon supporters can read drafts of the first two here and here.
Update
You can now read all the articles looking at these stocks in more depth through the links below:
DISCLOSURE: Long all stocks in the list.
DISCLAIMER: Past performance is not a guarantee or a reliable indicator of future results.  This article contains the current opinions of the author and such opinions are subject to change without notice.  This article has been distributed for informational purposes only. Forecasts, estimates, and certain information contained herein should not be considered as investment advice or a recommendation of any particular security, strategy or investment product.  Information contained herein has been obtained from sources believed to be reliable, but not guaranteed.