by Tom Konrad Ph.D., CFA
July 2019 was "marginally" the warmest month on record. Meanwhile, the stock market was also inching to new highs, and the real, sweltering evidence of climate change continues to let clean energy income stocks turn in a blistering performance.
While my broad income stock benchmark SDY was up 16.0% through the end of July (0.9% for the month), my clean energy income stock benchmark YLCO is up 23.4% through July (0.4% for the month,)  My 10 Clean Energy Stocks model portfolio is up 28.3% (1.3%) and my real-money managed strategy, GGEIP, is up 26.4% (1.2%) for the year through July 31st (for the month).  Like the temperatures, all of these are marginal new highs.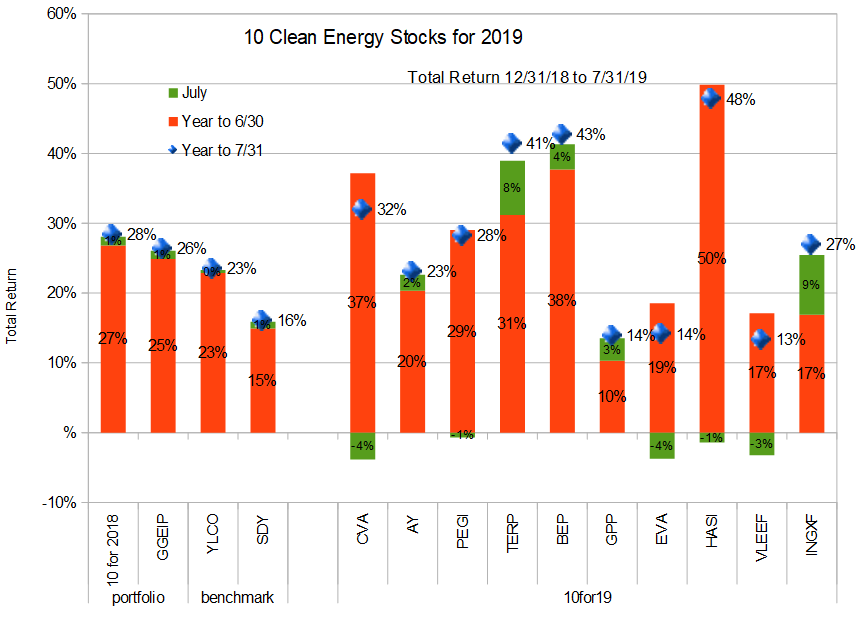 While I'm not pleased (or surprised) at the Earth's continued warming, I am pleased that my worries about an overheated stock market leading to a chilling bear market have not yet been realized.  Nor am I particularly surprised that the Bear has not yet pillaged our stock market dumpster.  My worries are that the risk of a bear market is high, not that it will arrive this month or next.  But it will arrive eventually, with little warning, and right after its delay has lulled as many investors as possible into complacency.
I continue to slowly increase my cash position as I take profits on many of my stocks hitting new highs.
Individual Stocks
Second quarter earnings season has begun, and here is a quick run-down of earnings on the stocks in the model portfolio that have announced so far.
Covanta Holding Corp (NYSE:CVA) announced earnings on July 25th, and adjusted its guidance downward. Operationally, the company is on track, but weakness in the scrap metal markets and electricity markets led it to reduce its expectations for Earnings Before Interest, Depreciation, and Amortization, while maintaining cash flow guidance.
The stock briefly sold off by a dollar (allowing me to marginally increase my position by selling cash covered puts at an attractive price) before recovering partially over the following week.  Since I have no concerns about Covanta's long term prospect, this is one stock I am not selling and may sell a few more cash covered puts if the volatility continues to the downside.
Hannon Armstrong Sustainable Infrastructure (NYSE:HASI) announced earnings on August first.  Earnings were down sharply from the first quarter because of a shift from securitization back towards keeping transactions on the balance sheet.  Balance sheet transactions boost earnings by a small amount each quarter over the life of the investment, while securitized transactions give a large, one-off boost to earnings.  The shift from securitization to balance sheet transactions was expected, and is not a cause for concern since it will lead to improved long term growth.
I expect the strong bias towards balance sheet transactions (and lower short term earnings but better long term prospects) will continue this quarter given HASI's recent capital raises.
I am personally hoping that the sharp drop in quarterly earnings will spook some investors, and bring the stock down to a less elevated valuation.  Over the past few months, HASI has been the poster child of a stock that I've been taking profits on.  Since I am a great fan of the company (if not at the current price), I'm hoping for future opportunities to buy back in at a better valuation.
Valeo (Paris:FR, OTC:VLEEF) reported first half results on July 24th.  While the overall market has been tapping on the brakes, Valeo has continued to improve its market position by increasing market share.  While sales were down one percent compared to the prior year, this is far ahead of the seven percent decline in overall vehicle sales.  Reduced overhead costs resulted in a small improvement in operating margin.
With operational performance strong, volatility in the automotive market as well as European stock markets has led to continued good buying opportunities in Valeo stock.  Although I continue to increase my cash position overall, this is one stock I am watching closely and will be buying aggressively if the Bear decides to rummage around in the Paris stock market.
Conclusion
I remain very cautious about valuations and uncertainty created by the Trump administration's trade wars.  Rate cuts in Europe and now the US have managed to keep the bottom from falling out of the US economy or stock market so far this year, but risks abound.  European stock markets are doing less well, and I am beginning to see hints of opportunities there.
I continue to hope for the best and prepare for the worst.  I continue to advise readers to do likewise.
Disclosure: Long PEGI, CVA, AY, TERP, BEP, EVA, GPP. INGXF, HASI, FR/PA/VLEEF. 
DISCLAIMER: Past performance is not a guarantee or a reliable indicator of future results.  This article contains the current opinions of the author and such opinions are subject to change without notice.  This article has been distributed for informational purposes only. Forecasts, estimates, and certain information contained herein should not be considered as investment advice or a recommendation of any particular security, strategy or investment product.  Information contained herein has been obtained from sources believed to be reliable, but not guaranteed.