by Debra Fiakas, CFA
In a series that began in March 2019, with the article titled "Vagants on the Earth,"  we looked companies offering products that address the building problem of top soil degradation and loss.  In the four articles that followed we explored forestation technology, environmentally-friendly timber harvesting, and modern soil fallowing programs.  Unfortunately, we found few companies where investors could get involved quickly as minority investors.  Another company has joined the movement to build topsoil.  This one has publicly traded stock!
Last week Gevo Corporation (GEVO: Nasdaq) announced commencement of a trial for a soil treatment at its Luverne, Minnesota facility.  The treatment developed by Locus Agriculture Solutions (Locus AG) is aimed at improving soil health for greater crop productivity.  Of course, Gevo is interested in improving corn crop yields for feedstock used in its isbutanol, renewable gasoline and jet fuel production.  However, the nature of Locus' soil treatment technology as a non-petroleum based fertilizer will also give Gevo bragging rights to a smaller carbon footprint.
The Rhizolizer soil solutions that is being applied to Gevo's corn fields is one of two products in Locus AG's technology portfolio.  It is composed of fungal and bacterial microbes that learned in the earlier soil series are vital for top soil productivity.  Microbes can affect soil structure and fertility by digesting organic plant matter and animal residues.  They can also help transport mineral nutrients and water to plants.  The product gets its name from the 'rhizosphere' region where soil microbes interact with plant roots and stems.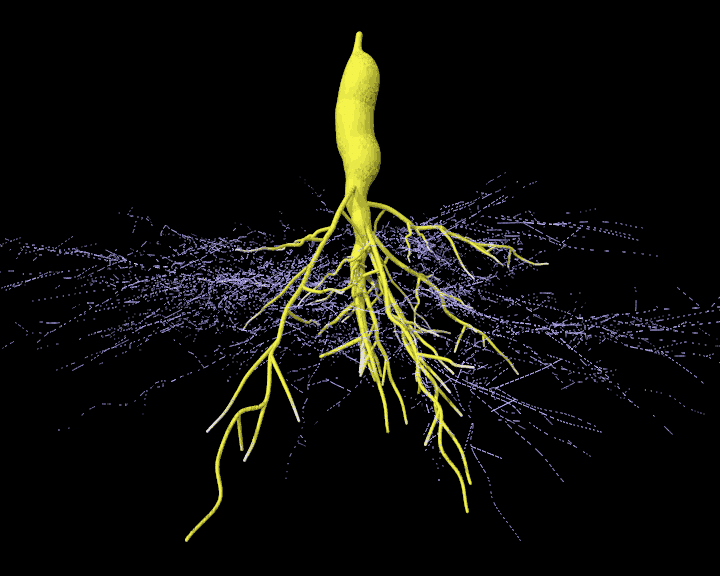 Rhizolizer is applied through the crop irrigation system and can be tailored to a particular crop and field.  So far it has been used on a variety of crops, including strawberries, citrus fruit and potatoes.
Customers with turf and shrubs can use Locus AG's Terradigm treatment, which is a 'brew' of active microbial strains in a liquid. While the product must be kept refrigerated, it is highly concentrated and is applied in small amounts with a spray.
Gevo's strategy to improve corn crop yields without using more petroleum-based fertilizer certainly should enhance the company's 'street cred' for environmental sustainability and low carbon emissions.  Even if crop yields do not increase at all, Gevo could benefit. First, any carbon footprint calculation could be changed in Gevo's favor.
Second, Gevo could be recognized for carbon sequestration.  That said, carbon sequestration benefits are a bit elusive. Soil is a known carbon sink.  It is estimated that about one-third of greenhouse gas emissions originate from the conversion of land from grass and trees to cultivation.  Working in reverse, the amount of carbon dioxide that gets caught up in soil due to an improvement in soil health is entirely uncertain.
The field trials should provide Gevo with the data to determine if the soil treatment is also economic.  Improvement in crop yields at an attractive investment in soil treatment could have an impact on Gevo's profits.  Furthermore, if somehow the carbon sequestration is quantified and translated into credits that could be also have a positive impact on Gevo's profit margins.
Gevo has still not turned a profit with its isobutanol or renewable fuel products. Investors taking a long position in its shares will have to wait at least two more years for any profits trickle to the company's bottom line.  In the meantime, the company taps its bank account for about $1.25 million each month to support operations.  Thus no matter how enthusiastic an investor might be about Gevo's latest efforts to improve the upstream end of its feedstock supply chain with improved corn crops, the shares are only for those with plenty of patience.
Neither the author of the Small Cap Strategist web log, Crystal Equity Research nor its affiliates have a beneficial interest in the companies mentioned herein.
This article was first published on the Small Cap Strategist weblog on 7/16/19 as "Gevo's Soil Amendment".