by Debra Fiakas, CFA
NuScale Power is in a new pact with South Korea's Doosan Heavy Industries and Construction Co. to support development of NuScale's small modular reactor (SMR).  In addition to direct investment of $40 million in NuScale, Doosan has agreed to provide parts and equipment for the innovative nuclear power reactor valued at a total of $1.2 billion.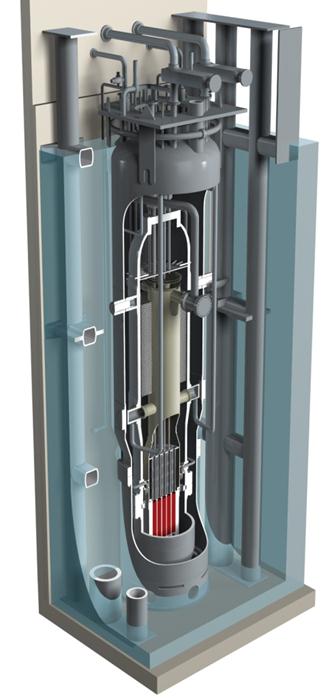 NuScale has been working on its power reactor for several years.  The new design is based on pressurized water reactor (PWR) technology that has been used to power nuclear submarines and naval vessels.  The design uses ordinary water as a coolant rather than 'heavy' water used by the large nuclear reactors in currently used to generate electricity.  Most importantly the PWR design is compact and thus has a lower capital cost than the typical reactor.
What makes NuScale SMR stand out is the 'self-contained' design.  Even though each unit is only about 25 meters in length and 5 meters wide, the vessel houses a reactor core, a pressurizer and a steam generator.  Each unit is capable of generating 50 megawatts of electricity.  The design has been under review by the U.S. Nuclear Regulatory Commission (NRC) for several years and recently passed the third phase of the NRC scrutiny.  NuScale expects the design review to be completed on-time by late 2020.
That will be just in time to begin NuScale's first commercial deployment of its SMR in cooperation with the Utah Associated Municipal Power Systems, an energy-focused agency of the State of Utah.  Twelve of NuScale's SMRs will be deployed side-by-side at a site in Idaho to build a total capacity of 720 megawatts.  Doosan will be helping in the first commercial steps by advising on the manufacturability of the components.  BWX Technologies, Inc. (BWXT: Nasdaq) has been selected as the manufacturer of the reactor.
NuScale is keen to get the kicks ironed out of its design.  Its pipeline is filling fast. Memorandums of understanding have been signed with parties in Canada and Jordan.  Additionally, Romania's Societata Nationala Nuclearelectrica SA is looking at the technology for deployment in its market.
The company is still working to improve the economics of its SMR.  In May 2019, NuScale signed a memorandum of understanding with Enfission, LLC, to explore the use of Enfission's nuclear fuel technology in NuScale's SMR.   Enfission is a joint venture of nuclear fuel developer Lightbridge Corporation (LTBR: Nasdaq) and Framatome, a French nuclear reactor manufacturer.  Although not yet approved by the NRC, Lightbridge claims its innovative nuclear fuel rod can significantly decrease the cost of nuclear fuel for utility operators.
NuScale's news is all good.  Its innovative design has won favor in the marketplace.  Regulatory hurdles are being cleared on-time and with ease. Interested customers are knocking on the door.  Alas, for investors, there is little reason to get excited.  NuScale is privately owned, but it has managed to raise over $80 million in new capital.  With private money coming in the door with such apparent ease, there is no need to tap the public capital market.  That is no reason to overlook NuScale.  After the first SMR is constructed and operating, NuScale may look at the world through different lenses.  An initial public offering could look more appealing.
Neither the author of the Small Cap Strategist web log, Crystal Equity Research nor its affiliates have a beneficial interest in the companies mentioned herein.
This article was first published on the Small Cap Strategist weblog on 8/9/19 as "Capital for Small Nuclear Reactor".