by Jim Lane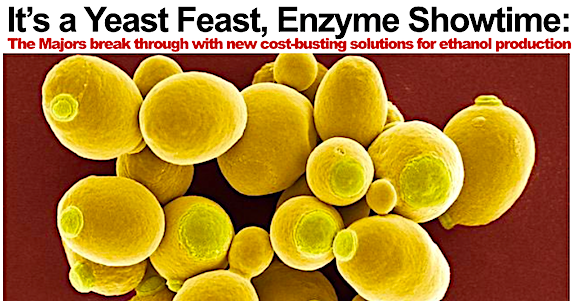 Three big product announcements just in…
DSM (e) breaks through on yield, efficiency with new yeast, enzyme offerings for corn fiber conversion.
Novozymes (Copenhagen:NZYM-B; OTC:NVZMY) launches breakthrough techs "Fortiva" and "Innova Force".
DuPont (DD) extends with corn oil extraction tech.
In Indiana, DSM leads the news out of the Fuel Ethanol Workshops with their latest yeast and enzyme offerings, eBOOST GT and eBREAK 1000F.
Up to 60 percent GA reduction
We've seen the eBOOST brand over the past year — so here's a significant cost savings opportunity in the form of a line extension. eBOOST GT, which has been tested and qualified at commercial scale, enables the robustness and yield benefits of eBOOST in starch fermentations with up to 60% reduction of externally added Glucoamalyse (GA). Yikes, 60 percent, that's a material reduction.
eBREAK, the latest enzyme offering, represents a new brand for the Netherlands-based giant. What we've learned so far is that eBREAK 1000F tolerates a wide range of challenging conditions to allow high yield hydrolysis for corn fiber conversion and sustainable optimization of plant economics.
Bottom line, both focus on high yield and efficiency in 1G and 1.5G fermentations in order to handle fluctuating market conditions, achieve maximum profits and ethanol yield, and obtain more valuable D3 RINS by effective fiber and biomass conversions.
Reaction from DSM
"These new product launches are proof of our commitment to creating brighter lives for all. We are pleased to now deliver a variety of different solutions that enhance production capabilities," says Atul Thakrar, President of DSM Bio-based Products and Services. "DSM works hard to be 'Doing Something Meaningful' every day to bring higher performance, better efficiency and more reliability to the biofuels industry."
Novozymes announces liquefaction platform and reveals next yeast technology
In late-breaking news, Novozymes tipped two major launches.
The first was Fortiva — a new alpha-amylase technology that helps customers avoid having to choose between maximizing enzyme performance and operational efficiency. In yeast, Force continues to deliver on the promise to quickly bring innovative, robust, and reliable biological solutions to the market from the Innova yeast platform established last year.
About Fortiva
Fortiva is added into liquefaction the same as traditional alpha amylase technologies, but once introduced, it solubilizes more difficult starch than all other amylases on the market.
Novozymes says the secret sauce is this: the efficient operational use of temperature, as well as the enzyme itself, 'leading to the highest conversion of starch to dextrins in the market and creating the highest returns on investment.'
In the end, it's an efficiency play. As Novozymes observed to The Digest, 'the fuel ethanol industry initially operated at high liquefaction temperatures (195F/91C) known to better solubilize starch to dextrins, but during this time, enzyme efficiency was limited and required excessive use of chemicals to enable the high operational temperature. Fortiva again allows the ethanol industry to engage very efficient, high temperature liquefactions (195F/91C) while also bringing to market the most advanced alpha amylase to work in this ideal environment, solubilizing more starch without the need for additional chemicals, yielding the highest ethanol production in the market (+1% ethanol yield).'
About Innova Force
Now to the tasty subject of Innova Force and fermentation kinetics. Innova Force expresses multiple starch-degrading enzymes for tailored substrate activity, ensuring solubilization and conversion for what Novozymes describes as the lowest residual starch and most optimal fermentation kinetics. Pair it with novel glucoamylases, and you get arguably the lowest stress and high performing yeast kinetics and fermentations for exceptional efficiency, as the mighty Danes so inform us.
And the data tells the story too. High dry solids – up to 38%, temperature excursions up to 104°F, and lactic acid excursions up to 0.6%.
But wait, here's the dollar savings you've been waiting for. Force eliminates the need for yeast food (100%) required by other yeasts. So, think $500,000 savings in nutrients (urea reduction, and 100% elimination of yeast nutrients). $280,000 cost reduction related to poor performing fermentations caused by lack of robustness., And, <33% DS – plants using advanced yeasts struggle running high dry solids.
Reaction from Novozymes
"The Innova platform, with the launch of Drive, Lift, and now Force, has been adopted as the most robust yeast in the marketplace, said says Brian Brazeau, Vice President, Biofuels Commercial North America at Novozymes. Novozymes' yeast solutions enable ethanol producers to run their plants the way they want to – and not be boxed in by a one-size-fits-all product," Brazeau added. "Within 1.5 years of launching our first yeast, over one quarter of North American ethanol plants now use Novozymes' yeast, clearly signaling the need for the performance, flexibility, and reliability Innova solutions deliver."
Corn oil extraction advance from DuPont
Meanwhile, increased recovery of corn oil in dry grind ethanol plants is the focus as DuPont launched OPTIMASH DCO+. It's an extension of DuPont's XCELIS Ethanol Solutions platform.
We've learned that OPTIMASH DCO+ is a patent-pending thermostable protease dosed into liquefaction, where it helps to liberate corn oil from the protein and fiber matrix of the corn kernel. Because it is a stand-alone product, ethanol producers can precisely dose OPTIMASH DCO+ without having to change their alpha amylase.
Reaction from DuPont
"We strongly believe that the precision and performance offered by OPTIMASH DCO+ is the right tool to help ethanol producers achieve additional profitability through greater corn oil yield," said Troy Wilson, Global Industry Leader for the XCELIS Ethanol Solutions platform at DuPont. "We are excited to deliver this innovation for the ethanol industry."
Jim Lane is editor and publisher  of Biofuels Digest where this article was originally published. Biofuels Digest is the most widely read  Biofuels daily read by 14,000+ organizations. Subscribe here.