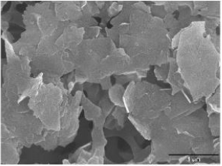 Applied Graphene Materials (AGM:  LSE) has developed a process for high-volume production of graphene nanoplatelets or 'stacks of two-dimensional graphene sheets that can be used in coatings, composites and polymers.  The attributes of nanoplatelets are not as impressive as the single layer of carbon atoms that scientists work with on their laboratory benches.  However, nanoplatelets 'play' better than single atoms, dispersing more easily into other materials.  Applied's management says the promise of graphene is better achieved by being practical in transferring its characteristics to other high value materials.
Applied's graphene nanoplatelets are used in a range of products:  paints, coatings, polymers, composites, thermal pastes, and lubricants.  In February 2019, one of the company's first customers, James Briggs Ltd., announced first production of an automotive aerosol primer using graphene material for enhanced anti-corrosion performance.  Management claims there are over 100 different projects in its sales pipeline.
The company reported a net loss for 2018, but appears poised to generate increase revenue and earnings in 2019.  At the end of 2018, Applied had $10.7 million in cash on its balance sheet to support operations until cash flows turn positive.
For a list of graphene producers, see this post.
Neither the author of the Small Cap Strategist web log, Crystal Equity Research nor its affiliates have a beneficial interest in the companies mentioned herein.
This article was first published on the Small Cap Strategist weblog on 4/5/19 as part of the post "Graphene Up Stream."