By Tom Konrad, Ph.D., CFA
Monthly Performance
Returns for the Ten Clean Energy Stocks for 2021 model portfolio are shown below.  It was a good month for clean energy stocks as well as the broader stock market, with the portfolio up 4% for a 20% total return through the end of October.  Its clean energy benchmark (RNRG) was up more (8%) but is still down 6% for the year.  Its broad market benchmark (SDY) rose 5% and has caught up with the model portfolio at a 20% return year to date.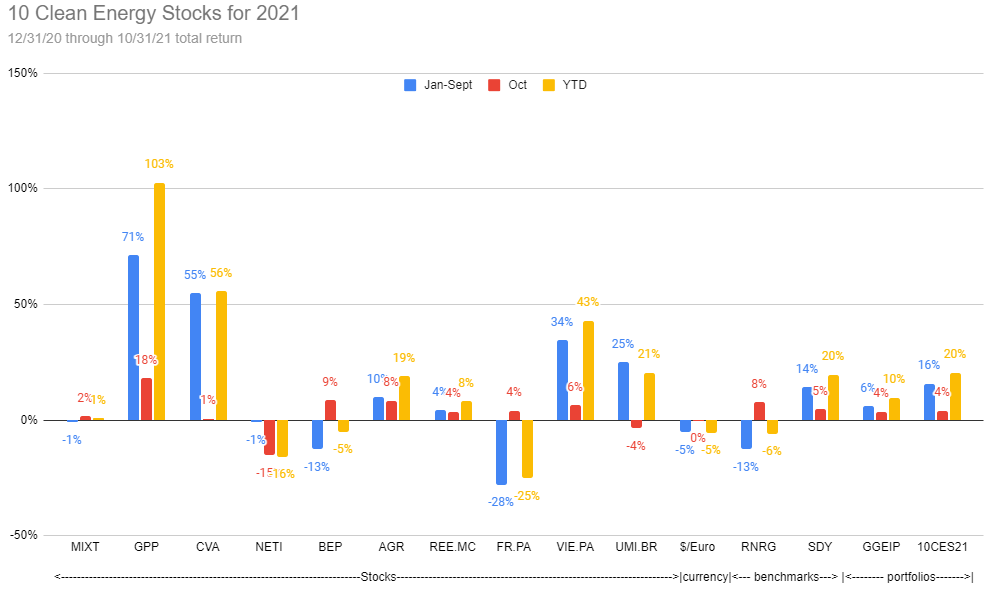 Earnings
Third quarter earnings season has started.  Below are some notes I've shared with my Patreon supporters over the past couple weeks:
MiX Telematics Earnings
MiX Telematics (MIXT) was down on earnings today.  I'd call it a case of decent earnings… the company continues to grow revenue and subscriptions quarter over quarter and year over year, but they are still a long way from 2019 levels.
Oil and gas customers still account for most of the shortfall, with most of the customer wins highlighted in the earnings call being transit, mostly bus fleets.  They did say that one big oil and gas customer is starting to bring some of its vehicles back into service.
Overall, the quarterly performance was decent, but investors were probably hoping for more of a bounce given the subscribers lost in 2020.  If anything, the long term outlook is improving, so the recent declines make MiX one of the few stocks in which I see value in the current market.
Green Plains Partners Earnings
The big news in Green Plains Partners' (GPP) third quarter earnings wasn't news at all.  The distribution increase for $0.435 quarterly which had been announced in mid-October, and the company had told us to expect the increase in August when I wrote: "I expect the board of directors to raise the dividend to between $0.40 and $0.45 next quarter."
The stock jumped anyway, and now trades around $15.  Given its current 11.2% yield, I think a modest ($1 to $2) further increase over the coming months is likely. 
Enviva Earnings
Note: Enviva is not in the current 10 Clean Energy Stocks list, but made an appearance in 2019 and I thought the news was notable enough to make it worth writing about.
I had two major take-aways from wood pellet MLP  Enviva's (EVA) 3rd quarter earnings.  
First, the previously announced simplification transaction where the partnership has bought out and absorbed its general partner and is converting to a corporate structure should be great for the stock price.
The company is guiding for $3.62 of total dividend payments in 2022.  After the shift to a corporate structure, EVA should start trading with a yield more in line with its Yieldco peers, around 3 to 5 percent.  So we can expect a share price a year from now to be in the $72 to $120 range.  With the current share price at $68, I'm fairly bullish.
The other take-away is that the company is moving into new markets with the announcement of a long term wood pellet supply contract to a European producer of aviation biofuel.  This is important because its largest current market, which is selling to power producers who burn the pellets in converted coal power plants has long term limitations.   
First, using wood pellets to generate electricity is not the highest use for a a renewable fuel source which is easy to transport and store.  These are two advantages notably lacking in the leading renewable energy sources, electricity from solar and wind.  Given the size and weight of batteries needed, it is very difficult to electrify long distance aviation.  As we transition the world away from fossil fuels, we need to find renewable energy sources for every application.  Sustainable aviation fuel is one where solar and wind will find it difficult to compete, so this is a good long term market for Enviva's biomass.
Other applications which will be difficult to serve with electricity from solar and wind are industrial processes such as steel and cement production, and the 10 to 20 percent of electricity which needs to be served by long term seasonal storage to meet demand that cannot be easily served with wind and solar.  Enviva is also exploring contracts with industrial customers looking to decarbonize.  
This new contract demonstrates that Enviva has scalable prospects for participating the sustainable energy economy for the long term, even when its current role as a bridge fuel to make use of the existing infrastructure in converted coal plants comes to an end.
DISCLOSURE: Long all stocks in the 10 Clean Energy Stocks for 2021 portfolio and EVA.
DISCLAIMER: Past performance is not a guarantee or a reliable indicator of future results.  This article contains the current opinions of the author and such opinions are subject to change without notice.  This article has been distributed for informational purposes only. Forecasts, estimates, and certain information contained herein should not be considered as investment advice or a recommendation of any particular security, strategy or investment product.  Information contained herein has been obtained from sources believed to be reliable, but not guaranteed.