By Tom Konrad, Ph.D., CFA
Here are two more updates from last week on Patreon.  Also, I realize I neglected to publish the monthly performance chart for my 10 Clean Energy Stocks model portfolio here at the start of the month, so here it is as well: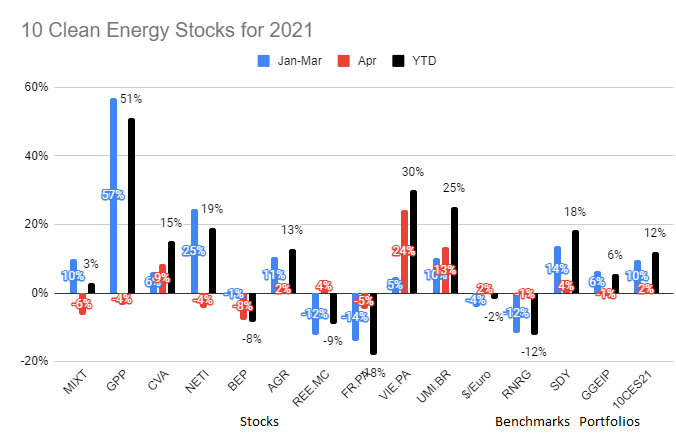 Atlantica Sustainable Infrastructure Earnings
(published May 11th)
Atlantica Sustainable Infrastructure (AY) released its first quarter earnings announcement and financial statements on May 6th.
Atlantica is one of the higher yielding Yieldcos, 5.3% at the new quarterly dividend rate of $0.43 and a $32.50 stock price.  The dividend is safe, since most of Atlantica's debt is fixed rate, non-recourse project debt which will be paid off before the project Power Purchase agreements expire.  
In addition to paying down debt, the company has also been investing in new projects, most recently a 49% stake in a 596 MW collection of 4 wind projects in Illinois, Texas, Oregon and Minnesota.  This has been financed by a well-timed issue of new equity in December, while the stock was trading at elevated levels with most other clean energy companies.  
The stock decline since then is getting me interested, and I have started selling out of the money cash-covered put to add to my current position.
Hannon Armstrong Selling Off Today- I'm Buying
(published May 12th)
This is going to be brief, but I wanted to give subscribers a heads-up.  Hannon Armstrong (HASI) is a unique REIT financing in renewable energy and energy efficiency.  Its investments typically are relatively senior (that is, they take losses last), making them safer than the typical equity investments of your average Yieldco.
Given the exposure to energy efficiency (a very difficult clean energy asset class to invest in), and the safety of its investments, HASI deserves to be in every clean energy income portfolio.  For the last few years, however, it has been selling at a large premium to the Yieldcos, so I've been slowly whittling down my stake.
The sell-off today (seemingly on inflation fears) looks like a great opportunity to buy some of that back (or, in my case, sell cash covered puts.)
Clearway Class A (CWEN-A) and Atlantica (AY) are also starting to look attractive.
DISCLOSURE: Long HASI, AY, CWEN-A.
DISCLAIMER: Past performance is not a guarantee or a reliable indicator of future results.  This article contains the current opinions of the author and such opinions are subject to change without notice.  This article has been distributed for informational purposes only. Forecasts, estimates, and certain information contained herein should not be considered as investment advice or a recommendation of any particular security, strategy or investment product.  Information contained herein has been obtained from sources believed to be reliable, but not guaranteed.