UQM Technologies (UQM:  NYSE) has agreed to be acquired by Danfoss Power Solutions for $1.71 per share in cash, providing a deal value near $100 million.  UQM leadership expects timely review by government authorities and has recommended approval of the deal by shareholders.  A date has not been set for the required shareholder vote.  Assuming all goes according to schedule, a deal closing is possible sometime in the second quarter 2019.
Electric propulsion and generation technologies are at the core of UQM's solutions for manufacturing, transportation and power industries.  The substitution of electric motors for combustion engines has been driving demand for the UQM's products.  Market opportunities have abounded for UQM and the world economy attempts to wean itself off environmentally damaging fossil fuels.  The company has reported steady increases in sales for the last five years, mushrooming to $10.9 million in the twelve months ending September 2018.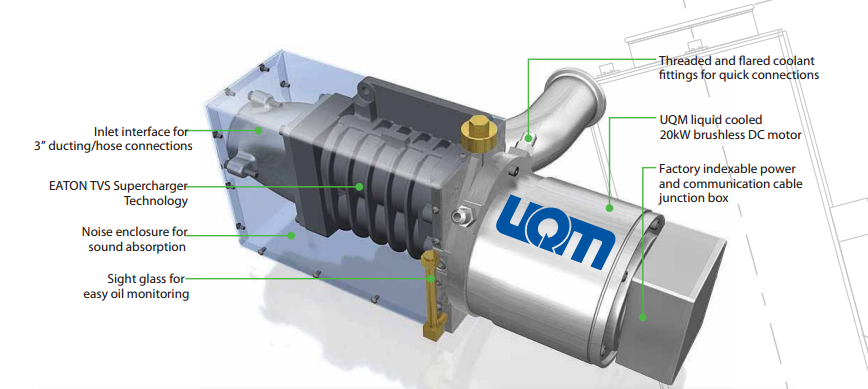 Some UQM shareholders may find inadequate the offer of $1.71 per share. During a conference call held with shareholders to discuss the Danfoss offer, UQM management cited competitive concerns as the primary reason behind the decision to accept the offer.  Demand conditions are excellent but the team sounded a practical caution on the challenges of capturing market share for a small company strong on technology and light on market access.
As rosy as the market opportunity might look, UQM's management team know they are in a game for big boys and girls.  The market for motors, generators and compressors has matured to the point it is dominated by large manufacturers.  Customers are accustomed to choosing from extended product lines and receiving attention from worldwide networks of sales and service personnel.   Let's not forget the confidence-building impression the plump balance sheet of a large company can make on customers ordering mission critical equipment.  UQM may have exceptional technology needed for adopting fuel cell technology or hybrid electric power systems, but it lacks the girth of its better established competitors.
The UQM-Danfoss tie-up is also not the first strategic move in the industry. In July 2017, automotive components supplier BorgWarner (BWA:  NYSE)snapped up one of UQM's competitors, Sevcon, for $200 million.  Sevcon's propulsion solutions encompassed conventional combustion systems as well as electric and hybrid systems.  A supplier of components to OEMs, Meritor, Inc. (MTOR:  NYSE), made a strategic investment in TransPower to gain access to Transpower's electrification technologies for large commercial vehicles.  Deals are being made and those that are left out could find competition with the new combinations composed of 'small company technology' and 'large company market reach' more and more challenging.
UQM Technologies reported a net loss of $6.8 million on the $10.9 million in revenue for the last reported twelve months.  Cash usage during that period was $5.4 million, making it clear the company still needs outside financial support to keep the doors open and lights on.  Marketing and sales campaigns require investment, not to mention the working capital to fulfill orders.  The reality of the company's situation is that to get a bite of the evolving electric propulsion and power generation market, UQM would require some sort of dilutive capital raise.  A strategic deal provides an interesting alternative to a financing, but retaining control might have also cost UQM shareholders dearly in the form of commissions or shared profits.
In comparison to the alternatives, at $1.71 per share UQM holders may be getting something close to fair value. The analysis may make some sense, but it does not take the sting out of the fact that after bearing the risks of an unprofitable company, UQM holders are getting shut out of the company's future.  Danfoss Power Solutions, a part of privately held Danfoss Group, is swallowing up UQM Technologies in an all-cash deal.
The deal is likely to be successful, delivering strong sales for Danfoss. UQM's fuel cell compressor system and all its other products will take a place in the Danfoss portfolio of hydraulic and electronic systems that are mostly marketed to off-highway vehicle markets.  Adding the UQM technology will give Danfoss a better position with manufacturers of electric buses and trucks.
The deal will also help Danfoss burnish its reputation as a 'green' company.  The company's 2017 Sustainability Report provides a view on Danfoss goals to operate responsibly, an image which has to help in conversations with electric bus and truck manufacturers who needs to reduce carbon and increase energy efficiency in their supply chains.
So there it is. UQM holders are most likely than not to get a check for $1.71 per share.  We note that for most it might be a celebration.  Over the last eighteen years, the greatest volume is at prices near below $1.00.   Looking at trades in the most recent five years, we observe that the majority were at prices below $0.60.  However, in the last twelve months things have looked rosier for UQM Technologies and we find significant historic trading volumes at the $1.00 price level and $1.35.  Even for those who may have grabbed some shares at the 52-week high price of $1.66, Danfoss is offering a nickel gain.
Neither the author of the Small Cap Strategist web log, Crystal Equity Research nor its affiliates have a beneficial interest in the companies mentioned herein.
This article was first published on the Small Cap Strategist weblog on 1/22/19 as "Shareholders Cry Foul as UQM Agrees to Buyout."