And I'm not talking about gold, but I liked the play on this title. Last December, I wrote about a report that claimed that solar stocks were the best play on the cleantech revolution. In that article, I analyzed the two solar ETFs: the Claymore/Mac Global Solar Index ETF (TAN) and the Market Vectors/Van Eck Global Solar Energy ETF (KWT).
At the end of the article, I said I had an open buy order on TAN. That buy order expired unfilled in January as the suckers rally progressed, but TAN then dropped to the kinds of levels I was looking for on Monday so I took a position at $5.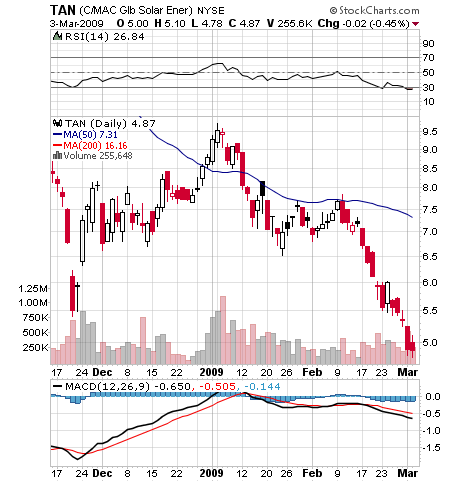 As I said in the December article, this is long-term. I don't expect this investment to realize its full potential for another 18 to 24 months, so patience is of essence. Of course, certain catalysts, such as a rapid rise in oil prices, could push this ETF up before then, and I would be more than happy to take a little profit if that happened (I haven't been taking a lot of that recently…). But my time horizon is two years plus here – this a play on the thesis put forth in the report that in the long run solar stocks have significant capital appreciation potential.
DISCLOSURE: Charles Morand has long position in TAN.
DISCLAIMER: I am not a registered investment advisor. The information and trades that I provide here are for informational purposes only and are not a solicitation to buy or sell any of these securities. Investing involves substantial risk and you should evaluate your own risk levels before you make any investment. Past results are not an indication of future performance. Please take the time to read the full disclaimer here.