by Debra Fiakas, CFA
In September 2019, the California State Assembly sent out legislation that sets a 10% recycled plastic mandate by 2021 and increases the hurdle rate to 50% by 2030.  The law covers plastic bottles that are already covered under the state's container redemption program.  Companies will need to use plastic bottles made from recycled plastic such that at least a minimum percentage of the plastic used meets the mandate.
Environmentalists and even consumers might be celebrating the new law, but the plastic recycling industry could be less than jubilant.  The recycling news feed is peppered with headlines that reveal some fraying at the edges of the fledgling plastic recycling industry.  An example is the recent article published by Plastics Recycling Update on October 9, 2019:  "RPET Demand will Outpace Supply."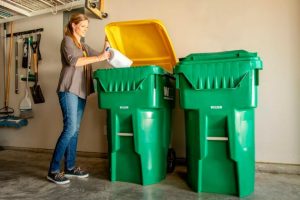 Only about one-third of plastics put into use in the U.S. is eventually recycled. Despite widespread new interest in using recycled plastic, the recycling rate is not changing significantly.  Demand is another story.  Beverage companies are keen to reflect a environmentally friendly image and have quickly embraced container designs using recycle plastic materials.  Many like Pepsi and Coca Colar have not waited for legislative mandates like the one just passed in California. Coca-Cola Mexico has teamed up with seven regional bottling partners to invest in PetStar near Mexico City, the world's largest food-grade PET plastic recycling plant in the world.  The world leader PetStar has a voracious appetite to fulfill its annual production capacity of 50,000 metric tons  or 110 million pounds of recycled plastic resin.  Sluggish supply against rising demand suggests a bottleneck could develop in the very near future.
In early October 2019, the Association of Plastic Recyclers (APR) held its fall membership meeting where the supply-demand imbalance was the focus of attention.  Six new companies have recently joined the industry group:  EFS-Plastics, Innovative Plastech, Novolex, PepsiCo (PEP:  Nasdaq), the Toro Company (TTC:  NYSE) and Waste Management (WM:  NYSE).    Like many of the other APR members EFS-Plastics is looking for help with its quest to find hard plastic feed stock such as polyethylene (PE) and polyporpylene (PP) type plastics for recycled plastic resins that will end up in a wide variety of end products.  EFS is hoping to benefit from recent bans on imports of post-consumer plastic by China and other countries in southeast Asia.  EFS is stepping up overtures to materials recovery facilities across Canada and the U.S. to let them know there is demand from North American recyclers.
Of the six new members of APR, only Waste Management comes from the upstream end of the supply chain where the bottleneck resides.  By the end of 2018, the company had ceased exporting any waste materials to China for recycling, positioning the company directly as part of the solution.  It is also a company with a publicly traded stock that gives minority investors a ticket to participate in the swell of new recycling activity.
At about $116 per share, WM will set an investor back 24.9 times forward earnings.  That may seem a steep price to pay, but investors should not lose sight of Waste Management's 1.7% forward dividend yield and analysis expectations for 8.6% compound annual growth over the next five years.  The company delivered 28% return on equity last year and a conversion of 24% of sales to operating cash flow in the most recently reported twelve months suggests the coming years could hold similar results.
Neither the author of the Small Cap Strategist web log, Crystal Equity Research nor its affiliates have a beneficial interest in the companies mentioned herein.
This article was first published on the Small Cap Strategist weblog on 10/17/19.