by Debra Fiakas, CFA
A stream of impressive news has been delivered by wind turbine producer Vesta Wind Systems AS  (Copenhagen: VWS.CO, US OTC: VWSYF, US ADR: VWDRY) over the last few weeks.  Over the last two months the company has received orders for wind power turbines totaling 3,781 megawatts.  Customers in the U.S. appear to be quite shy, withholding their names and the final destination of the power projects. Nonetheless, the more transparent European, Chinese and Brazilian customers provide a good view on how well regarded Vestas has become.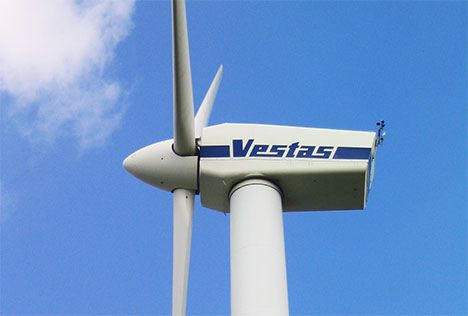 Business has been so good Vestas is opening a new nacelle and hub assembly factory in Chennai, India.  The company already has two production units in the area that will be combined and expanded in the new Chennai facility.  Vestas plans to begin production at the site by the end of 2020.  The company has 20 factories around the world that in providing good jobs can be used to leverage local support for its wind turbine products.
Vestas has made progress in penetrating the U.S. market with a lower-cost solution called the V138 wind turbine with 3.0 megawatt capacity.  The turbine has a tip height under 500 feet, which is frequently a limitation for wind park sites in the U.S. The turbine is expected to have 30% higher energy production than an older V120 2.2 megawatt solution.
General Electric (GE:  NYSE) is Vestas primary competition in the U.S.  Both companies have had to adjust to the expiration of government subsidies for wind power.  GE's product line offers a range of capacities from 1.7 megawatts to 5.3 megawatts.  The company has made good progress in the wind market in the U.S. and around the world.  However, Vestas remains number one in nameplate capacity.
With all this warm breeze blowing at Vestas' back it is no surprise to find that the shares are trading at 135 times trailing earnings on the Copenhagen market and 20.38 times trailing earnings in the U.S. equity market.  Small-cap investors who frequent this blog may find the stock entirely unaffordable.  However, the 1.25% dividend yield on the shares in the U.S. market helps make the price-earnings multiple more palatable.  The stock is underpinned with exceptional financial performance:  6% net profit margin, 20% return on equity and 10% sales-to-cash conversion.
The share price has leveled off after a steep drive higher that began in 2013 as Vestas began capturing market share with new turbine products.  However, the company is just now beginning to realize the benefits of its pioneering efforts in wind power.  Some investors might see the stock as fitting well into a buy-and-hold portfolio focused on larger companies with well established operations.
Recent Vestas Orders
An undisclosed customer ordered 420 megawatts of V120 2.2 megawatt wind turbines for a project in the United States.  The planned commissioning is late 2020.
PacificCorp, a subsidiary of Berkshire Hathaway Energy, ordered V136 4.2 megawatt wind turbines totaling 459 megawatts that will be installed at two wind projects in Wyoming.
Ekola Flats in Wyoming will receive V136 4.2 megawatt wind turbines totaling 228 megawatts.  The project is owned by PacificCorp.
EDF Renewables order 249 megawatts of V120 2.2 megawatt wind turbines for its Las Majadas wind project in Texas.
Energy supplier Fortum will use 21 V150 4.2 megawatt turbines for its project Kalax in western Finland.
An undisclosed customer in China ordered 20 V120 2.2 megawatt wind turbines for a project that matches a hub height record in China.
A project in the New South Wales Southern Tablelands is to receive 54 V117 4.2 megawatt wind turbines as part of an engineering, procurement and construction project.
Vindkraft ordered 39 of Vestas V150 4.2 megawatt wind turbines for a project in the Kherson region of southern Ukraine that will reach a total 164 megawatts when completed.
The Rio de Ventro project in the state of Rio Grande do Norte in Brazil will receive 106 Vestas V150 4.2 megawatt wind turbines.  Project developer Casa dos Ventos placed the order in early June 2019.
Vesta won a contract auction in Denmark to supply 16 V126 4.34 megawatt wind turbines for the Overgaard 1 Wind Park in Randers Municipality in Denmark.  Project owner SE Blue Renewables  is a joint venture of Denmark's SE energy company and PFA Pension company.
Vestas will supply 67 V150 4.2 wind turbines to an unnamed customer in Brazil.  The turbines will be produced at Vestas' factory in Ceará, Brazil in cooperation with the Brazilian Development Bank.
Brazilian energy company Echoenergia order 76 megawatts of the V150 4.2 megawatt turbines for its Serra do Mel wind project in the state of Rio Grande do Norte, Brazil.
The first order for wind turbines in El Salvador will be installed by Ventus S.A. de C.V. and Tracia Network Corp. The order is for 15 V136 3.45 megawatt turbines.
An undisclosed customer has contracted with Vestas America for the supply and commissioning of 454 megawatts of V120 2.2 megawatt wind turbines.
Vestas America received an order for supply and commission of V150 4.2 megawatt wind turbines for two projects being developed by an undisclosed customer.
A mix of V110 2.0 megawatt and V150 4.2 megawatt wind turbines will be installed for an undisclosed customer by Vestas America.  The contract includes a 25-year service agreement.
Bürgerwindpark Rauβenköge GmbH & Co. ordered 12 V112 3.45 megawatt turbines for a wind park in Schleswig-Holstein.
Neither the author of the Small Cap Strategist web log, Crystal Equity Research nor its affiliates have a beneficial interest in the companies mentioned herein.
This article was first published on the Small Cap Strategist weblog on 7/9/19 as "Warm Wind Blowing at Vestas' Back".