by Giles Kirkland
Even though many states seem to enter the "construction season" every spring, there's still a significant backlog of vital repairs and improvements needed for state roads, interstates and bridges – around $420 billion worth as of 2017.
Not only are our roads falling apart, there are greater numbers of people in more vehicles on them. But what if, instead of simply following same repaving or rebuilding formula that never seems to catch up, municipalities get "smarter" with their fixes?
Smart cars use the newest technologies to save energy, improve safety, and assist in navigation. Missing from many of the current discussions, though, is what they will drive on: intelligent roadways with various connected sensors installed that do everything from sharing information about upcoming road conditions to automatically calling an ambulance if a car is detected going off the road.
Smart roads are the ultimate Internet of Things: some proposals include built-in solar cells that collect energy, relays to charge electric vehicles, or heat cells to keep roads thawed and safer all winter.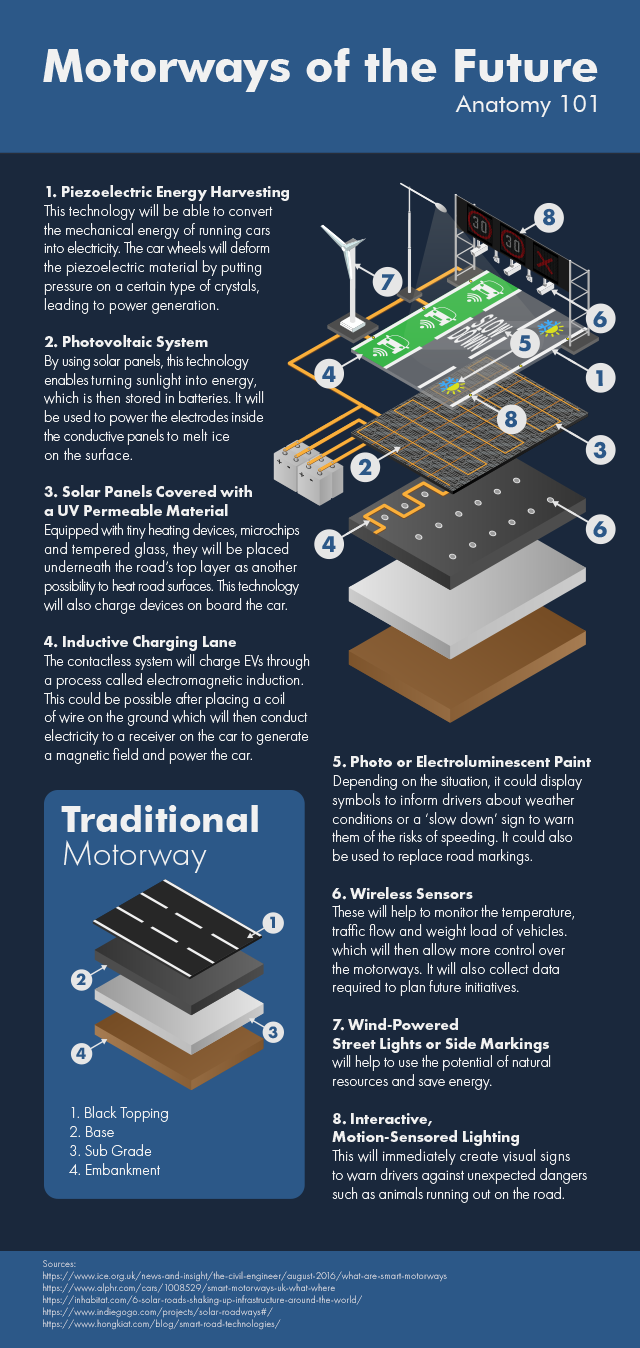 Investment potential
If you're generally familiar with construction projects and costs, it's a fair guess that smart roads aren't going to come cheap. But if a municipality is planning to fix their roads anyway, it may as well incorporate technological improvements into their infrastructure upgrades.
This approach can potentially open the door to a blend of companies still in the start-up stage along with established public companies that have been involved in construction, engineering and road building for years. Public companies, especially those with experience working at different scales, can use the expected push for smart roads to secure contracts as well as grow revenue and hopefully improve stock performance.
It is predicted that by 2022, the global smart roads and bridges market can reach a compound growth annual rate of $2,660 million, which is a 24 percent increase from 2016. The greatest technical needs, and therefore the highest amount of potential for investors, will be in the area of sensors. This includes devices embedded in the roadway to detect pressure, temperature, speed, and more.
Tesla (TSLA) is leading the pack of public companies eager to explore the concept of smart roads further. Known for the innovative electric vehicles, the company are working on ways to map roads better to make sure their cars perform well.
Volkswagen (VWAPY), which trades on Germany's stock exchange, has put significant money into energy-efficient cars, along with investing in technical improvements to the infrastructure of Jinan, China, which includes smart roadways.
Sellers of raw materials might stand to benefit, such as United States Steel (X), which has been producing steel for more than a century; Aecom (ACM), which provides design expertise; and public equipment and machinery firms such Caterpillar (CAT) or United Rentals (URI.)
Super start-ups
Business watchers looking ahead to future opportunities should keep an eye on the newer private companies. They may need equity if they want to continue to grow and bid on bigger projects.  
For example, Integrated Roadways based in Kansas City, Mo. is attracting a good deal of notice. The company has been replacing standard roadways with 'smart slabs' equipped with sensors that detect vehicles, warn of upcoming congestion or accidents, and recommend routes to drivers or self-driving cars. It is also working with Cisco Systems (CSCO) and other tech companies to install SmartPavement in Colorado. Many of these will be in rural areas where it's difficult for phone signals to reach.
An Ohio company Smart Road Technology is designing a system of sensors and smart pods to deliver real-time information about road conditions. A fleet of drones can provide supplemental data as well. The potential usefulness of smart roadways may also attract companies specialized in technology (hardware, software, or support) which don't necessarily know much about transportation.
Canada and the U.S. have the potential to be a big part of a possible smart road boom, due to the high quantity of roads and proximity to tech companies. But Europe and the United Kingdom also could be high growth areas and locations to launch pilot programs.
Conclusion
There are plenty of benefits included in the roadways of the future, from improved safety to greater sustainability of the infrastructure. Due to various political and budgetary reasons we should not expect to see these upgrades implemented very soon; however, it is worth being aware of the upcoming investment possibilities.
Giles Kirkland is an automotive expert, focused on researching green solutions for the transportation industry. You can find his articles on Twitter, Facebook and Oponeo.