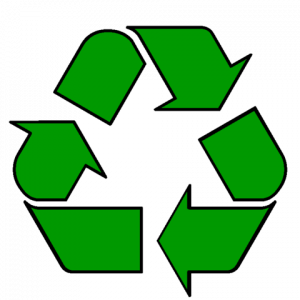 According to Plastics Europe Research Group, over 35 million tons of plastic material was produced globally in 2016, the last year for which full-year data is available.   That brought total plastic production to 9 billion tons since 1950.  All of those plastic materials remain in existence somewhere  –  still in use, landfills, junk yards, blowing around the countryside, waterways, oceans, fish stomachs. The post "Plastic Contagion' on April 13th outline the dangers presented by plastic waste, ranging from respiratory failure from toxic emissions to reproductive interference in aquatic animals.
The building burgeoning volume of plastic waste has sent environmentalists scrambling for solutions to the plastic waste problems.  The last post "Four Rs in Plastics Solution" on April 17th described the American Chemistry Councils' recommendation to 'reduce, recycle and recover.'  Only about 25% of plastic is recycled.  The Recycling Coalition of Utah estimates that the other 75% of plastic was recycled it would save 1.0 billion gallons of oil and 44 million cubic yards of landfill space.  Recycling plastic takes apparently takes 88% less energy than making new plastic from raw materials.  Energy savings alone makes a good case for plastic recycling.
Capital invested in the recycling sector gets a double return on top of earnings: preventing plastics pollution and saving energy.  Investors have some choices in the recycling sector.
Recyclers do not accept every type of plastic.  Most consumers are familiar with the 'chasing arrows' symbol on plastic products.  Inside the symbol is a number that corresponds to a type of plastic, each with differing chemical characteristics that make them reusable or recyclable.  The recycling industry has formed up along plastic type.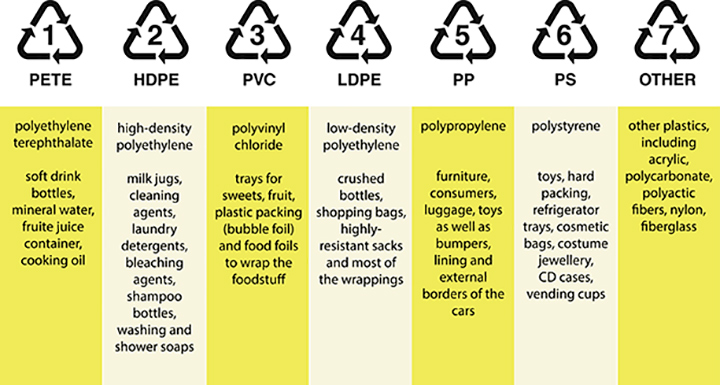 Few public company investment opportunities
Sims Metal Management (SGM:  ASX or SMSMY:  OTC) does not have the corporate moniker for plastics, but its municipal recycling services has expanded the company beyond its origins in metals recycling.  Based in Australia, Sims has turned a scrap metal business into a multinational materials enterprise.  Sims is the primary recycler for municipal waste in some of the largest cities in the world, including New York City.  The company claims it is successful in diverting over 10 million metric tons of metal, electronics, plastics, glass and paper from landfills around the world.
In 2017, Sims recorded AUS$5.1 million in total sales, providing AUS$182 million in operating earnings.  Revenue increase 9% in 2017 compared to the prior year.  Operations generated AUS$266.4 million in cash flow in the year, representing a sales-to-cash conversion rate of 5.2%.  Return on capital was 8% in 2017, giving management some bragging rights with shareholders looking for good returns on corporate investment.
Strong cash flows mean is supporting a strong balance sheet with low leverage. Cash net of AUS$5.5 million in debt was AUS$378.5 million at the end of December 2017.
Valuation is attractive for SGX.ASX as the stock trades in the Australia equity market.  The stock trades at a multiple of 14.8 times estimated earnings for 2018. Generous icing is added to the cake by a forward annual dividend yield of 4.1% at the current price level.
For the purist investor KW Plastics is an alternative to Sims.  KW Plastics is the largest plastics recycler in the world, with more than 100 million pounds of silo capacity and the ability to process more than a billion pounds of plastic annually. The company focuses on polyethylene and polypropylene type plastics and produces 'post consumer' resins for manufacturers looking for sustainable materials to use in their products.
Unfortunately, KW Plastics is privately held, leaving most investors on the sidelines.  The Troy, Alabama based company has reportedly reached revenue levels between $20 million and $50 million and is profitable.  At a more mature stage, the company is not likely seeking capital from outside investors.
Plastics recycling sector poised to grow
The field of plastics recycling may change in coming years.  The sector is attractive for existing and new entrants.  Research and Markets, an industry research firm, estimates the global plastic recycling market is growing at about 8% annually and should see high single digit growth through 2025.
The sector is highly fragmented with numerous small players around the world. Consolidation seems inevitable.  This is especially the case given that there have been recent technological advancements in plastic recycling that may be required to remain competitive.  Capital constraints may make technology upgrades difficult for some players, who might decide sale to a large entity the best path.
Leading Plastics Recyclers
Schoenberg & Co. Inc.                                   PLASgran Ltd.
MBA Polymers UK Ltd.                                  KW Plastics
Kuusakoski                                                      Hilex Poly Company LLC
Fresh -Pak Corp                                              Envision Plastics.
Delta Plastics of the South LLC                    \Dart Container Corporation
Custom Polymers Inc.                                   Consolidated Containers Company
CarbonLite Industries                                    B&B Plastics Inc.
Avangard Innovative LP                                 ARORA FIBRES Limited
Advanced Environmental Recycling Technologies
Neither the author of the Small Cap Strategist web log, Crystal Equity Research nor its affiliates have a beneficial interest in the companies mentioned herein.