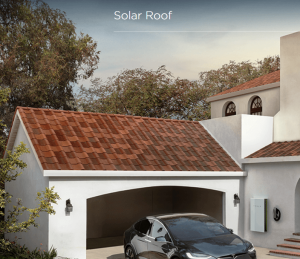 by Kyle Pennell
Back in late 2016, Tesla (TSLA) moved to acquire SolarCity, a solar panel manufacturer and installer. Shortly thereafter, the electric automaker revealed why: it had developed a new residential solar product, the solar roof. While it looked like any other home roof, the tiles that composed the roof actually contained solar cells. An individual roof tile won't produce much energy, but when linked with others in sequence, the tiles can potentially generate power equal to that of regular solar panels.
But while Tesla's solar roof energized the solar industry, it was hardly revolutionary. At the time of Tesla's unveiling event, solar shingles had already been available commercially for over a decade, and the technology behind them was patented in the 1970s.
Homeowners love solar shingles because unlike highly visible solar panels, they're often indistinguishable from regular roof tiles, and from the ground level, the solar cell inside the shingle is invisible. They're also potentially cheaper than regular roofing tiles, especially in new homes that are built with solar power in mind or in homes that already require a new roof. Normally, builders would first have to install shingles, then a solar installer would have to affix the panels. But by unifying both elements into a single, simple installation process, solar shingles allow homeowners to save money.
On the other hand, if a roof is in good shape, installing solar shingles would be a needless expense. And since the average asphalt shingle roof typically lasts 20 to 25 years, locating homeowners who are open to having a new roof installed - let alone one willing to shell out the $36,000 to $51,000 that a solar shingle installation can cost - can be difficult.
Solar shingles have struggled to compete against solar panels, a more mature and affordable technology. California-based Solexel, for instance, produced a low-cost, high-efficiency solar shingle funded by $31 million in equity financing and a $13 million Department of Energy grant. But after burning through over $250 million, the company (which rebranded itself as Beamreach in 2016) declared bankruptcy last year.
Dow was once one of the biggest names in the solar shingle business. Back in 2011, Dow began producing its Powerhouse line of solar shingles. Like Tesla's solar roof, hopes for the Powerhouse were high. Time named the Powerhouse one of the inventions of the year when it debuted (as a prototype) in 2009. Dow expected the Powerhouse would cost 10 to 15 percent less than traditional solar panel installations and predicted $10 billion in sales by 2020.
But in 2016, just a few months before Tesla announced its acquisition of SolarCity, Dow pulled the plug on the Powerhouse. Numerous reasons were given as to why the Powerhouse was discontinued. Analysts argued that solar shingles weren't cost-effective: they produced less power and cost more than regular panels of equal wattage.
Corporate reshuffling also contributed to Powerhouse's demise. The decision to end Powerhouse production was one part of Dow's merger with DuPont, a deal that saw Dow eliminate 2,500 jobs globally.
It's also possible that the company was too diversified to devote sufficient time and resources to the Powerhouse. Before it merged with DuPont (becoming DowDuPont (DWDP)), Dow manufactured agricultural chemicals, plastics, water purification devices, and a host of other products and chemicals. It's a lesson that Tesla - which also manufactures electric automobiles and solar batteries - might take to heart.
Tesla's business model, moreover, appears no more efficient than Dow's was. Tesla acquired SolarCity to have greater control over the assembly and installation of its solar roofs; Dow pursued a similar strategy, acquiring NuvoSun in 2013 for a steady supply of the difficult-to-manufacture CIGS cells it used in the Powerhouse.
Despite Dow's initial failure, there remains a great deal of excitement around solar shingles, one of the many emerging building-integrated photovoltaic (BIPV) technologies. Along with other BIPV products like transparent solar cells that can be mounted on building windows, solar shingles will likely capture a progressively greater portion of the solar market as the technology improves.
Even DowDuPont, apparently, has such faith in solar shingles that it's willing to give them another chance. The company announced late last year that it would be developing a new version of the Powerhouse. Instead of CIGS thin-film technology, the Powerhouse will now utilize crystalline silicon solar cells of the variety found in standard solar panels. DowDuPont anticipates its "Powerhouse 3.0" will receive product certification in the coming months.
Because of the small number of solar shingle makers, it's difficult to extrapolate in a general way about how the market reacts to new solar shingle products or deals. After Real Goods Solar (RGSE) partnered with DowDuPont to develop the newest iteration of the Powerhouse in October, its stock more than doubled on heavy volume in premarket trade. Another solar shingle maker, Certainteed, seems to be doing a relatively brisk business with its Apollo Tile II. French multinational Saint-Gobain (Euronext:SGO), which owns CertainTeed, expects to see its share value rise about 4 percent by year's end.
Still, as with any investment, shareholders want to know that they're investing in a company that's stable, reliable, and ethically administered. Shareholders were sent scrambling in the days following Tesla's 2016 announcement that it intended to purchase SolarCity, since Tesla CEO Elon Musk and SolarCity CEO Lyndon Rive are cousins. Accusations of cronyism and sweetheart dealmaking swirled, and Tesla's stock value declined 15 percent.
Once the deal was approved by Tesla's board, however, the market settled down. And when the deal was finalized later that year, Tesla's stock price rose 1.4 percent and SolarCity's shares rose 2.5 percent in after-hours trading.
In a far less controversial deal, the company has also partnered with Panasonic, which agreed to invest over $250 million in a Tesla "gigafactory" in Buffalo. Together, Tesla and Panasonic will develop better batteries for Tesla's line of electric automobiles, and Tesla has agreed to use Panasonic solar cells in its solar shingles. The gigafactory will eventually produce both solar shingles and traditional solar modules.
Apart from the big players, there are few competitors in today's solar shingle market. But as California-based solar startup PowerScout has pointed out, the rapidly declining cost of solar means that the industry as a whole is poised to expand dramatically in the coming years. And if Tesla's solar roof takes off when installations begin nationwide later this year, investments in solar shingles will only accelerate.
Kyle Pennell is the Content Writer/Researcher/Manager at PowerScout, an California-based solar marketplace.  He has no positions in any of the stocks mentioned.