Tag: Renewable Fuel Standard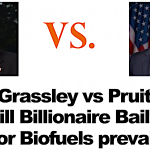 Trump in a pickle: support his beleaguered EPA Administrator over oil refinery bailouts, or rally his Midwestern farm-state base? In Washington, Senator Chuck Grassley of Iowa tweeted: "I've supported Pruitt but if he pushes changes to RFS that permanently cut ethanol by billions of gallons he will have broken Trump promise & he should step down & let someone else do the job of implementing Trump agenda if he refuses." Grassley explicitly called on Pruitt to back a key campaign pledge from 2016 that helped unlock farm state support and propel Trump into the White House. 1/19/16 Trump at IA Renewable fuels summit: EPA...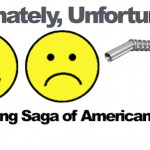 by Jim Lane The ethanol signals from Washington DC are more inexplicably mixed than cocktails with names like Sex on the Beach. Let's parse through the wigwagging over the future of American biofuels supply and demand — ethanol and otherwise. Fortunately: Trump backs year-round E15 ethanol blends In Washington, President Trump endorsed year-round E15 ethanol availability as an emerging compromise between oil refiners and US farm sector. The Renewable Fuel Standard is a federal program that requires transportation fuel sold in the United States to contain a minimum volume of renewable fuels. The RFS originated in a bi-partisan Congress with the Energy Policy Act...