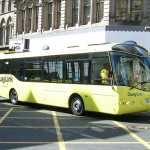 Alternative Transportation Stocks are publicly traded companies that offer transportation options that use less fuel per passenger-mile or freight-mile than traditional options. Includes mass transit (both rail and bus), bicycles, and two wheel vehicles. A. P. Moller - Maersk Group (MAERSK-B.CO) Accell Group (ACCEL.AS) Blue Bird Corporation (BLBD) Bombardier Inc (BDRBF) Construcciones y Auxiliar de Ferrocarriles (0MK5.L) CSR Zhuzhou Electric Locomotive (ZHUZF) Canadian National Railway Company (CNI) Canadian Pacific Railway Limited (CP) CSX Corporation (CSX) Cubic Corporation (CUB) Dorel Industries (DIIBF) Firstgroup, PLC (FGP.L) Giant Manufacturing (9921.TW) Grande West Transportation Group Inc. (BUS.V) Great Lakes Dredge and Dock (GLDD) Greenbrier (GBX) L. B. Foster (FSTR) Merida Industry Co. Ltd. (9914.TW) National Express Group (NEX.L) New Flyer Industries (NFYEF, NFI.TO) Norfolk...
Power REIT's preferred stock offerning (NYSE:PW-PRA) is an excellent hedge for the legal risks borne by the holders of its common stock (NYSE:PW.)
Tom Konrad CFA An earlier version of this article appeared on the author's Forbes blog on June 3rd. An article about Power REIT (NYSE:PW) that came out on Seeking Alpha on May 30th has sent some investors running for the hills. The article has since been removed from Seeking Alpha. According to PW's CEO, David Lesser, Seeking Alpha's editorial staff concluded that it had reached unsupported and erroneous conclusions after discussions with him and Ryan Griffin, the article's author. Ryan Griffin told me that he did not have time to respond to the...