By Tom Konrad, Ph.D., CFA
The Ten Clean Energy Stocks for 2021 model portfolio had a decent year.  With a 13.2% total return, it handily beat its clean energy income stock benchmark, the Global X Renewable Energy Producers ETF (RNRG, formerly YLCO), which fell 12.1%.  It did not, however, compare as well to the wider universe of income stocks, which had an excellent year, with its benchmark SDY up 27.2%.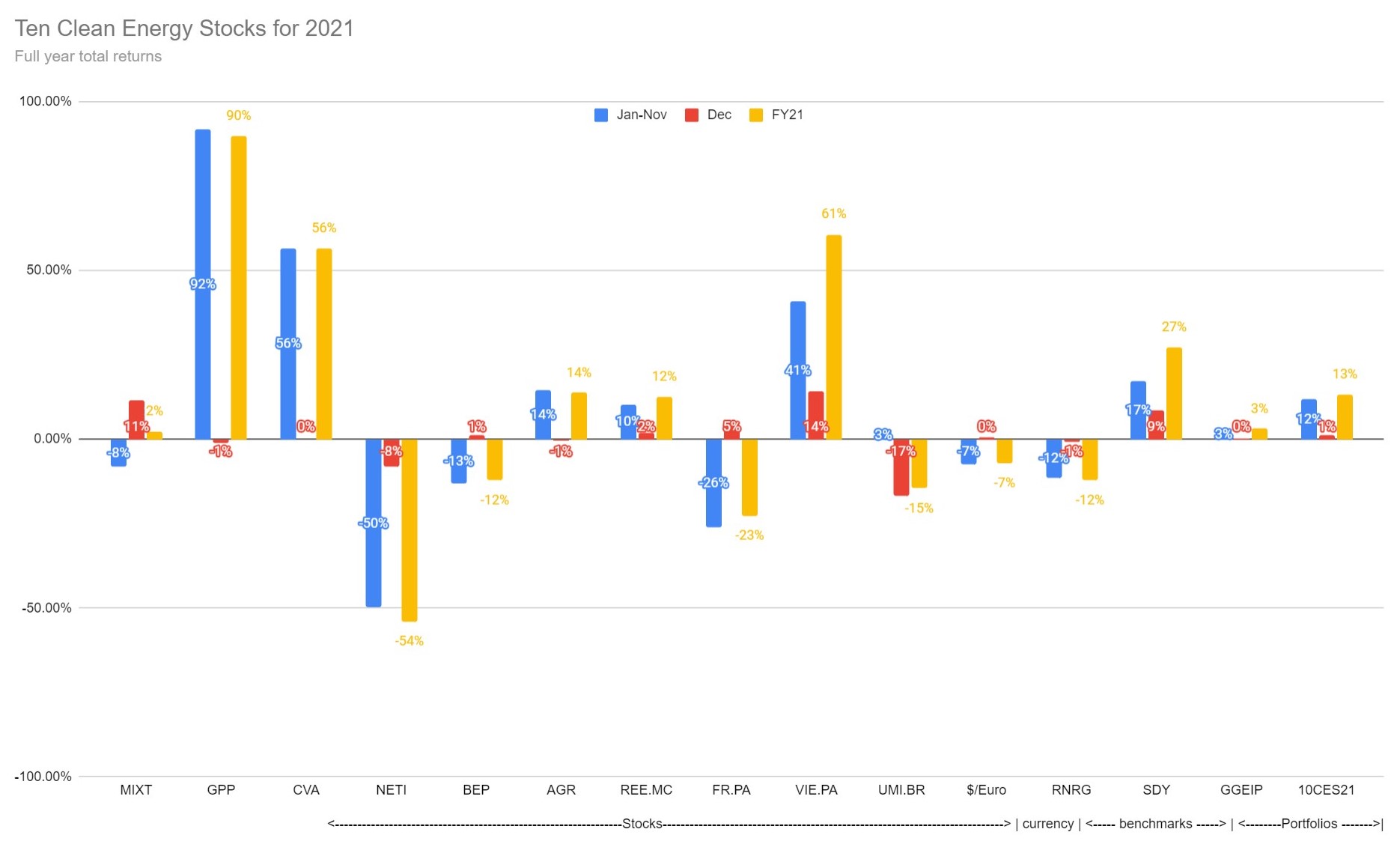 The poor performance of clean energy stocks in 2021 was largely due to the bursting of a clean energy bubble which formed in the second half of 2020 fueled by speculation about and then the reality of a pro-climate Democrat in the White House.  
Although Biden and the Democrats in Congress are pushing things in the right direction (a complete and welcome reversal from Trump and the Republicans), the ability of both parties to make meaningful change is usually overestimated by investors around an election.  This led to inevitable disappointment and the deflation of the clean energy stock bubble of late 2020.
I started the year cautious about this bubble, and mostly picked stocks which had participated less in the late-2020 rally, but might still be able to benefit from the additional money sloshing around in the space.  This led to the model portfolio's decent gains, although I was not able to overcome the headwinds.
Individual stock gains from expected refinancing at Green Plains Partners (GPP) and an unsurprising buyout of undervalued Covanta Holding (CVA) more than offset a bad call at Eneti (NETI) where I expected management to be better stewards of shareholder capital than they turned out to be.  Their relentless pursuit of expansion plans led to an ill-timed and dilutive secondary offering of shares in November.
2022 
I am not going to be publishing a Ten Clean Energy Stocks list for 2022.  Because I am launching a hedge fund with Investment Research Partners, and I will need to be investing new funds as they come into the fund, it would not be fair to hedge fund investors to share my best ideas with readers at the same time I am investing their funds.
If I were to share those picks, they would be focused on those clean energy stocks which have suffered the worst from the bursting of the bubble.  However, I would retain a cautious stance overall, because I continue to think the broad market is overvalued.  A new bear market would hurt the clean energy sector, even those stocks which fell significantly in 2021.
I will continue writing, but my stock commentary may be a bit less timely, and I will emphasize investing strategy a bit more.
If I had to be optimistic about a sector, it would be clean transportation.  The supply chain disruptions of the last two years have hurt the whole auto sector badly, and the recovery, when it eventually comes, could lead to impressive rebound in both profitability and stock prices.
DISCLOSURE: Long all stocks in the 10 Clean Energy Stocks for 2021 portfolio.
DISCLAIMER: Past performance is not a guarantee or a reliable indicator of future results.  This article contains the current opinions of the author and such opinions are subject to change without notice.  This article has been distributed for informational purposes only. Forecasts, estimates, and certain information contained herein should not be considered as investment advice or a recommendation of any particular security, strategy or investment product.  Information contained herein has been obtained from sources believed to be reliable, but not guaranteed.