by Jim Lane
In California, waste feedstock from the city of Oakland is now being converted to Neste (NEF.F, NESTE.HE, NTOIF, NTOIY) MY Renewable Diesel and fuels the city's fleet.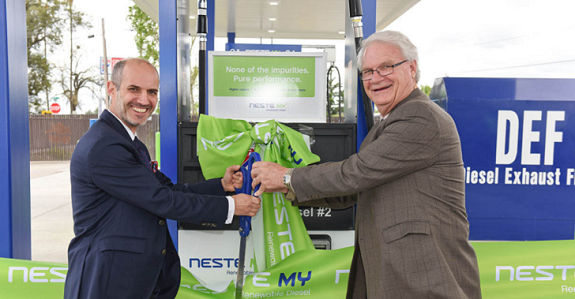 The city, Neste, fuel distributor Western States Oil and local collectors for used cooking oil joined forces to gather waste cooking oils from restaurants and other businesses in the Oakland metropolitan area and convert it to fuel the city's fleet. By making waste more valuable and supporting jobs that collect and treat it, this concept helps the local economy in the city while the cleaner-burning Neste MY Renewable Diesel improves the lives of its residents by reducing local emissions from the city's fleet.
More renewable diesel for trucks in California's Central Valley
Meanwhile, renewable diesel fuel is soon to be much more accessible to fleet drivers looking to fuel up in central California, thanks to the opening of Neste-branded pumps at Van De Pol card-lock at 5675 7th Street, Keyes, dispensing Neste MY Renewable Diesel.
We reported on the story in Keyes and at three other California locations here.
Card-lock locations are unstaffed fueling stations designed to accommodate fleet vehicles, including 18-wheel trucks. Drivers can fill up with Neste MY Renewable Diesel, a low-carbon fuel produced from 100 percent renewable and sustainable raw materials that cuts greenhouse gas emissions by up to 80 percent compared to petroleum diesel.
"Since launching in California in 2011, we've had a lot of positive feedback from drivers and fleet managers using Neste MY," Baines said. "And those who haven't tried it yet keep asking where they can get it. We're proud to offer Neste MY Renewable Diesel at these card-lock locations to further expand its accessibility and lead the renewable fuel revolution."
Over to Sweden for jet fuel with Neste and Air BP
Over to Scandinavia for more Neste action. Neste, and Air BP, have entered into an agreement to deliver sustainable aviation fuel to airline and airport customers in Sweden in 2019.
Air BP has supplied sustainable aviation fuel in the Nordics since 2014 at around 10 airports, including most recently at Kalmar airport in Sweden and Oslo airport where they were the first to supply sustainable aviation fuel produced by Neste through the existing airport fueling infrastructure, in collaboration with other key industry stakeholders.
As backstory, Neste and Air BP announced in 2018 their plans to explore and develop supply chain solutions for delivering sustainable aviation fuel to airports and airlines. As a next step in their collaboration Neste will combine its expertise in the production and blending of sustainable low-carbon aviation fuel with Air BP's recognized excellence in safe, efficient and effective aviation fuel distribution solutions to jointly develop a viable supply-chain solution for sustainable aviation fuel to the Swedish market.
What's significant here.
First of all, let's think about the expansion of distribution in California: note that this renewable diesel is being sold under the Neste brand, something we've seen in Finland but it's a first for the US.
The second takeaway is a little more subtle, that's the volume of these card-lock refueling stations that specialize in fleets. The Keyes facility alone supports 6 million road miles per year of fueling, and this is hauling something like 80,000 pounds per mile.
It would take 80,000 fully-loaded Tesla Model 3s to haul that same load. 4 stations provide more greenhouse gas reduction in the Big Heavy sector than you could achieve with all the electric cars sold in the U.S. last year put together. Which is not to say "don't consider an electric" – please look carefully at the EV option where there is renewable electricity generation available to support EVs and where the range and cost meets your vehicle budget. What this is meant to show is that the Big Heavy is important and the impact of renewable diesel can be huge.
Third and fourth takeaway. The fuels are competitively-priced and all you have to do to use them is choose a different pump. No new vehicle, no modifications, no limit on blends, no hidden switching costs, no hassles, no kidding.
Fifth takeaway. Consider the positive local impact. Less NOx, lower particulars, and a lot more pleasant than the fossil diesel smell.
Some caveats to keep in mind
Neste is ramping up production, they have a big expansion of capacity in Singapore supporting this market that will come online in 2022, but it won't be tomorrow and there may be some limits on supply if the fuels become as popular as they might. Neste will be able to expand quite a bit using existing production, but there will be some limits between now and 2022.
Feedstock acquisition will also be key to ensure that the supply chain continues to provide raw materials that are more and more sustainable, affordable, reliable and available — building up the supply network will be key. Neste is adamant that they don't want to get into a market and then have trouble meeting the demand.
To that end, consider the Oakland program — that's a very tight example of circular economies. Neste collects waste oils from Oakland's sewers and makes renewable diesel, and sells fuel back to Oakland. There, a waste is eliminated in the form of a fuel that helps keep petroleum in the ground.
In some ways, this all started with ham in Finland, the traditional Christmas meal, and Neste started a program to have locals donate their Christmas waste oils, which Neste collects and processes into fuel. A great way for the ordinary person to take positive action, and a great way to help make renewable fuels affordable.
As Neste VP Jeremy Baines told The Digest, "More and more people are looking at the climate change discussion and saying, 'I don't know if I agree with everything people are saying, but this is happening'…I see the early springs, the forest fires and I know this is not normal — and here's a small way in which the private citizen can do something about it."
The Neste backstory
Renewables Take the Lead: The Digest's 2019 Multi-Slide Guide to Neste is here.
Neste MY Renewable Diesel is a low-carbon fuel produced from 100 percent renewable and sustainable raw materials, primarily wastes and residues. It cuts engine-out emissions of nitrogen oxides by 9%, those of carbon monoxide by 24 % and fine particulates by 33 %, all while enhancing fleet performance. The concept by the city of Oakland and Neste saves greenhouse gas emissions by 74% compared to conventional, fossil diesel. Neste MY Renewable Diesel is a direct replacement fuel that requires no blending and is compatible with all diesel engines.
Recently, we reported that Neste's growing Renewable Products business area will be divided into three business units and one operational platform each of which has its own Executive Vice President responsible in Neste's Executive Committee: Renewable Road Transportation, Renewable Aviation, Renewable Polymers & Chemicals, and the Renewables Platform. More on that story here.
In December, we reported that Neste took the plunge and decided to invest EUR1.4 billion in tripling renewable production in Singapore. More on that here.
Reaction from the stakeholders
"Oakland is a proud leader in protecting our environment and practicing the highest levels of sustainability," Mayor Libby Schaaf said. "This bold move will give our residents cleaner air, and it takes us one important step forward in our work to reduce greenhouse gas emissions."
"We are excited to partner with the city of Oakland to make 'from city waste to city fuel' a reality and do our part to improve the lives of the people in the city," said
Jeremy Baines, vice president of sales, Neste US, Inc. "Oakland's choice for a more sustainable diesel fuel and their support for making local waste part of their energy solution sets an example for the Bay Area, for all of California and beyond."
"Switching from petroleum diesel to renewable diesel automatically converts the City's oldest and dirtiest polluting vehicles into alternative fuel vehicles – overnight and with no additional costs," Oakland Public Works Director Jason Mitchell said.
"Demand for cleaner fuels is on the rise globally, and California is a leader in the movement toward an emissions-free future," said Jeremy Baines, vice president of sales for Neste. "Neste MY Renewable Diesel helps meet environmental needs without compromising performance or cost."
"I am very happy to announce that our collaboration with Air BP has taken its first concrete step, as aviation is one of our strategic growth areas. Sweden is becoming a leading country in decarbonizing aviation with its proposal to introduce a greenhouse gas reduction mandate for aviation fuel sold in Sweden. Together with Air BP we are able to support air transport in Sweden in their efforts, and this collaboration gives both of us valuable insight into developing similar supply chains to decarbonize aviation in other markets," says Neste's President and CEO Peter Vanacker.
Jon Platt, Air BP Chief Executive Officer added: "I am pleased that through our collaboration with Neste we will be able to offer our Swedish customers sustainable aviation fuel at a number of airports across the country in 2019. We are committed to supporting our customers, through initiatives such as this, as they work towards reducing their emissions and realizing their low carbon ambitions."
Jim Lane is editor and publisher  of Biofuels Digest where this article was originally published. Biofuels Digest is the most widely read  Biofuels daily read by 14,000+ organizations. Subscribe here.