by Jim Lane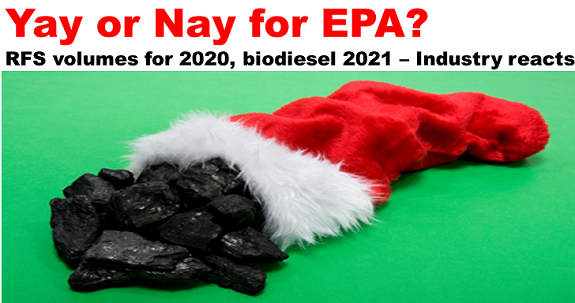 What's the reaction from industry? Coal for Christmas?
Should Santa bring coal for EPA's stocking this year? Do the biofuels and agriculture industries think the EPA just put coal in their stocking? Is it thumbs up or thumbs down from biofuel industry advocates on last week's U.S. Environmental Protection Agency renewable fuel volumes? What about the exempted volumes?
The Ruling – Rotten or Respectable?
First, a bit on the EPA ruling that establishes the required renewable volumes under the Renewable Fuel Standard (RFS) program for 2020, and the biomass-based diesel volume for 2021. Here are the numbers from EPA:
Final Volume Requirements
 
2019
2020
Statutory Volumes
2020
Proposed Volumes
2020
Final Volumes
2021
Final Volumes
Cellulosic biofuel (billion gallons)
0.42
10.50
0.54
0.59
n/a
Biomass-based diesel (billion gallons)
2.1
≥1.0
n/a
2.43
2.43
Advanced biofuel (billion gallons)
4.92
15.00
5.04
5.09
n/a
Renewable fuel (billion gallons)
19.92
30.00
20.04
20.09
n/a
a All values are ethanol-equivalent on an energy content basis, except for BBD which is biodiesel-equivalent.
The key elements of the EPA action are as follows:
"Conventional" biofuel volumes, primarily met by corn ethanol, will be maintained at the 15 billion gallon target set by Congress for 2020.
Cellulosic biofuel volumes for 2020, and thus advanced biofuel volumes, will increase by almost 170 million gallons over the 2019 standard.
Biomass-based diesel volumes for 2021 will be equivalent to the standard for 2020, still more than double the statutory requirement.
EPA will closely examine the labeling requirements for E15 fuel and move forward with clarifying regulations as needed.
According to the EPA press release:
Through this rule, EPA has modified the RFS program by projecting small refinery relief to ensure that these final volumes are met, while adjudicating small refinery relief when appropriate. As proposed, we are finalizing a projection methodology based on the 2016-2018 annual average of exempted volumes had EPA strictly followed the Department of Energy (DOE) recommendations of 770 million Renewable Identification Numbers (RINs) in those years, including granting 50 percent relief where DOE recommended 50 percent relief. This is our general approach to adjudicating Small Refinery Exemption (SRE) petitions going forward, beginning with 2019 SRE petitions and including 2020 SRE petitions and beyond, we are committed to following the DOE recommendations. By proposing effectively 15.8 billion gallons for 2020 we will ensure meeting our target of 15 billion gallons.
"Through President Trump's leadership, this Administration continues to promote domestic ethanol and biodiesel production, supporting our Nation's farmers and providing greater energy security," said EPA Administrator Andrew Wheeler. "President Trump committed to our nation's farmers that biofuel requirements would be expanded in 2020. At the EPA we are delivering on that promise and ensuring a net of 15 billion gallons of conventional biofuel are blended into the nation's fuel supply."
EPA has modified the way RFS obligations are determined to better ensure that these volumes are met, while still allowing for relief for small refineries consistent with the direction provided by Congress under the statute. By proposing effectively 15. 8 billion gallons we will net out at 15 billion.
More information can be found on the EPA website here.
Reactions from the Industry
Ok, so now that we know the numbers, what's the reaction? Sure, there are increases in the volumes but is it enough?
Overall consensus is no, not even close. But it's not just the volume numbers that have folks up in arms – it's the small refinery exemptions. The EPA is counting only half of the exempted volumes actually granted over the past three years.
Just a taste of what they are saying:
The EPA is playing games…
They blew it…
They've missed the mark…
Disappointed, frustrated, and quite frankly angry…
This is not what we agreed to in that meeting on Sept. 12 or Oct. 4…
Trust has been lost…
EPA has decimated demand for more than 4 billion gallons of renewable fuel…
We've gone from promises of a giant package to the reality of a lump of coal…
Stifles investment in green energy breakthroughs…
Leads to more uncertainty for renewable fuels…
We will keep holding EPA's feet to the fire…
I don't think the White House truly understands the depth of discontent in farm country…
Here's more on what key players in the biofuels industry had to say:
Growth Energy asks EPA to take further action
"While the final rule provides an uptick in federal biofuel targets and signals an intent to account for demand lost to oil refinery exemptions, Growth Energy stressed that the agency must enforce those volumes by accounting for exemptions accurately and that EPA Administrator Wheeler must take additional steps to uphold the administration's October 4th commitments to rural America."
"President Trump pledged to deliver certainty and stability for America's farmers and biofuel producers by restoring integrity to the RFS," said Growth Energy CEO Emily Skor. "While we're encouraged that EPA is finally taking steps to follow the law and account for biofuel demand lost to secretive oil refinery exemptions, this rule leaves important work unfinished.
"Integrity is restored to the RFS only if the agency accurately accounts for exemptions it will grant. The rule uses an accounting formula based on Department of Energy recommendations, which EPA has a poor track record of following. All eyes will now be on EPA's next round of refinery exemptions and future targets, which will signal whether Administrator Wheeler is truly committed to ending demand destruction.
"Additionally, Administrator Wheeler must act swiftly to break down remaining market barriers to E15 as promised in the October 4th EPA announcement. When the RFS is working as intended and government has eliminated market access barriers, drivers across the nation will able to take full advantage of the administration's move to unleash sales of E15 year-round."
National Biodiesel Board disappointed with lack of growth in 2020 RFS volumes
The NBB said that the EPA rule blocks growth for the biodiesel industry and Kurt Kovarik, NBB's VP of Federal Affairs, said, "EPA's final rule for the 2020 RFS volumes is simply out of step with Congressional intent and President Trump's promises. This week, Congress and the president are extending the biodiesel tax incentive through 2022 and sending an unmistakable signal that they support continued growth of biodiesel and renewable diesel. At the same time, EPA Administrator Wheeler is doing everything he can to block that growth."
Kovarik continued, "Despite his statement to the press, Administrator Wheeler's method for estimating future small refinery exemptions does not provide assurance to the biodiesel and renewable diesel market. The best estimate of future exemptions is an average of the 38 billion gallons exempted over the past three years. Even if EPA had included that estimate, though, there is nothing in today's rule to ensure that the agency will get these exemptions under control."
BIO says EPA's rules are leading to more uncertainty, stifles investment in green energy
"Unfortunately, this final rule from EPA does not alleviate concerns we had when the draft rule was published earlier this year," said Stephanie Batchelor, VP of BIO's Industrial and Environmental Section. "The lack of growth for advanced and cellulosic biofuels, and the failure to fully reallocate the gallons lost from the drastic expansion of small refinery exemptions, will continue to stifle investment in green energy breakthroughs. This final rule will have a long-lasting negative impact on the country's renewable fuels industry as we've already seen plants close because of the agency's manipulation of the policy to date."
Iowa Biodiesel Board says biodiesel flatlined in final rule and future small refinery exemptions underestimated
Grant Kimberley, executive director of the Iowa Biodiesel Board, said, "The EPA rule does not provide positive signals to a market longing for assurance. EPA's actions have already decimated demand for more than 4 billion gallons of renewable fuel, including biodiesel and renewable diesel. With this final rule, the agency has once again declined to uphold the integrity of a federal law meant to encourage the use of renewable fuels in America, siding with oil company interests at the expense of family farmers. Ten biodiesel producers have closed their doors or drastically cut production due to loss of demand."
"In addition to our discouragement over lack of growth, the industry does not have confidence in EPA Administrator Andrew Wheeler's plan for estimating future small refinery exemptions, based on EPA's past actions. There is no assurance these exemptions will be brought under control or properly accounted for. Meanwhile, we stand ready to meet continued sustainable growth of several hundred million gallons every year."
Iowa Renewable Fuels Association says EPA rule fails to restore RFS integrity, Trump turns back on previous promises
"President Trump turned his back on certainty for farmers and failed to keep the September 12 deal," stated Iowa Renewable Fuels Association (IRFA) Executive Director Monte Shaw. "Instead of certainty, we are essentially being told to trust the EPA to uphold the RFS in the future even though for the past three years the EPA has routinely undermined the program. Every farmer and biofuel supporter I have talked to is deeply disappointed, frustrated, and quite frankly angry. I don't think the White House truly understands the depth of discontent in farm country."
In order to remove EPA discretion from the process, biofuels supporters united behind a plan to account for SREs using a three-year rolling average of actual refinery exemptions granted. President Trump agreed to this plan in a September 12 Oval Office meeting with Midwestern elected officials, including Iowa's Governor and Senators. Today, however, President Trump sided with EPA's alternative plan which relies on using a three-year rolling average of U.S. Department of Energy (DOE) recommendations for SREs, which EPA has routinely ignored and is under no legal obligation to follow.
"IRFA today called upon the EPA to immediately post DOE recommendations – past, present and future – on their SRE website dashboard," stated Shaw. "Market participants must have faith in the process and must know whether or not EPA is following the DOE recommendations. Further, to prevent any entity from gaming the system, this information should be made public to all market participants at the same time. In just a few months, EPA will begin adjudicating the 2019 compliance year SREs. It will be their first opportunity to demonstrate good faith and we'll be watching very, very closely."
Click here to see IRFA's full letter to the EPA.
American Coalition for Ethanol calls RFS rule a failure to uphold President's biofuel deal
American Coalition for Ethanol (ACE) CEO Brian Jennings said, "Over the course of the past few months, we've gone from promises of a 'giant package' to the reality of a lump of coal. To say we are disappointed is an understatement. While it was well understood this rulemaking would not make farmers and the ethanol industry 'whole' for the damage EPA has done by abusing the small refinery exemption provision of the RFS, we were led to believe the rule would represent a step in the right direction, an opportunity to account in a meaningful way for refinery waivers.
"We are forced yet again to continue defending the RFS and fighting EPA's mismanagement of the program in the third branch of government, but this is another painful reminder our industry needs to go on offense with a new plan to increase demand on ethanol's low carbon and high octane advantages."
National Corn Growers Association's President, Kevin Ross, said, "The Administration has chosen to move forward with a final rule that corn farmers believe falls short of adequately addressing the demand destruction caused by EPA's abuse of RFS refinery waivers. While using the DOE recommendations to account for waivers is an improvement over the status quo, it is now on corn farmers to hold the Administration to their commitment of a minimum of 15 billion gallon volume, as the law requires. We will use future rulemakings and other opportunities to hold the EPA accountable."
Renewable Fuels Association's President and CEO, Geoff Cooper, "After EPA's overwrought abuse of the SRE program in recent years, agency officials had a chance to finally make things right with this final rule—but they blew it. EPA's rule fails to deliver on President Trump's commitment to restore integrity to the RFS, and it fails to provide the market certainty desperately needed by ethanol producers, farmers, and consumers looking for lower-cost, cleaner fuel options. While the final rule is an improvement over the original proposal, it still does not guarantee that the law's 15-billion-gallon conventional biofuel blending requirement will be fully enforced by EPA in 2020."
POET's Senior Vice President of External Affairs and Communications, Kyle Gilley, said "Today was a missed opportunity to finally restore clarity to the ethanol and grain markets, but more opportunities lie ahead in 2020. With these 2020 RVO levels now finalized, our near-term focus shifts to implementation of the remainder of the President's critical biofuels package: ensuring 15 billion gallons means 15 billion blended, deploying an infrastructure package, changing the pump label, and reforming the fuel survey."
Iowa Senator Chuck Grassley said, "Once again, EPA is playing games and not helping President Trump with farmers. An agreement was reached on September 12 in an Oval Office meeting between several Midwest leaders, President Trump and other members of his Administration. This does not reflect what we agreed to in that meeting."
"The magic words from the Oval Office meeting were three-year rolling average based on hard data and actual waived gallons. Abiding by this would have solved all the problem's EPA has created."
Iowa Senator Joni Ernst said, "Throughout this process, I, along with Senator Grassley and Governor Reynolds have made it crystal clear that Iowa's farmers and biofuel producers need certainty that EPA will follow the law. After shaking hands in the Oval Office this fall, EPA had an opportunity to restore the broken trust of farmers and to follow through on the president's commitment, but it appears they've missed the mark…again. We were guaranteed a deal in September, and we were assured of that same deal in October, yet EPA rolled out, and has now finalized, a different proposal. It's no wonder trust has been lost.
"We will keep holding EPA's feet to the fire to ensure they truly uphold the RFS, the law, as intended and fully implement the other critical aspects of this rule."
U.S. Rep. Collin Peterson (D-MN), Chairman of the House Agriculture Committee, said, "At a time when our agriculture economy is struggling, the EPA has ripped 4 billion gallons of ethanol out of the market and impacted corn prices and rural communities. We also have yet to see the other things that were promised to the biofuels industry and corn farmers to get more ethanol into the market via infrastructure incentives and policies related to higher ethanol blends."
RNG Coalition welcomes EPA's biofuel targets
On the other hand, the Coalition for Renewable Natural Gas (RNG Coalition) said they welcomed the EPA cellulosic biofuel targets for 2020, but they are certainly not in the majority among the biofuel and agriculture industries.
"The RFS has helped spur the remarkable growth of America's RNG industry. We welcome today's final rule providing for a 41% percent increase in the program's cellulosic biofuel target, and we appreciate the Administration's willingness to promote the expanded production and use of cellulosic biofuels," stated Escudero.
Jim Lane is editor and publisher  of Biofuels Digest where this article was originally published. Biofuels Digest is the most widely read  Biofuels daily read by 14,000+ organizations. Subscribe here.