by Jim Lane
What in the world has gone right with Gevo?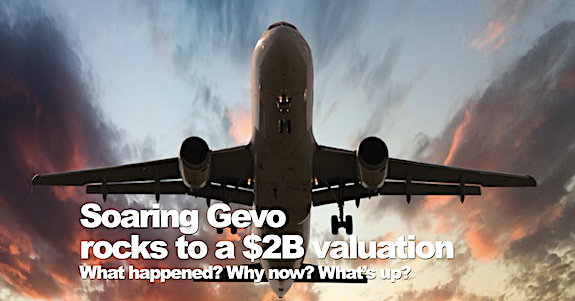 For years now, Gevo (Nasdaq:GEVO) has remained true to a vision of low-carbon, advanced renewable fuels, when so many others pivoted away to the world of ABF — Anything But Fuels. Some tried chemicals, cannabis, algae, natural gas, nutraceuticals, vegan foods — lately, protein has been all the rage. Gevo was one of the few true believers and paid the price of stock price punishment and near-extinction, for years.
While they weathered a debilitating patent battle with DuPont, until it settled and DuPont imploded. And the collapse of oil prices when the frackers arrived, until many of the frackers imploded. Not to mention the joys of investor impatience as Gevo battled to stabilize their technology at the first commercial deployment in Luverne. The years when no investor believed that carbon prices were here to stay and that low-carbon technology represented a quantum leap in shareholder value creation. The years when the RFS and the LCFS and the Paris climate agreement were unknown to the many and disdained by the few. The years when everything was going electric 'next year' and then 'next year' and 'next year'.
Gevo persevered with their technology, and a focus on renewable hydrocarbons, as their stock on a ride through the Valley of Dilution. The company's many fans stubbornly kept the firm in the upper echelons of the 50 Hottest Companies in the Advanced Bioeconomy. The management kept costs trimmed, laid out a plan for deployment, and waited for the storms to pass. And as was said in Casablanca, "waited and waited and waited."
The stock dipped to just 49 cents a share last summer, after a series of dilutions, as it assembled a series of impressive offtake agreements, ultimately reaching $1.5B late last summer, and the company raised $50 million in a new share offering. A Praj partnership expanded, and a Koch partnership appeared. The company's shelf of Whitebox debt was repaid.
And, finally, the stock began to rise as the prospects that Gevo would finally deploy at the scale necessary for thriving, not just surviving, seemed at hand. Gevo announced its Net Zero Project.
Just as the world took notice that all these Net Zero promises coming from companies of late could not be satisfied by a mountain of wind and solar, because those technologies have very small carbon footprints but they are not zero. For every wind and solar project, you need to offset with something carbon negative, and that's something found in biology. Not to mention, renewable fuel projects can be low carbon, too, even when they are not carbon negative, and the investment returns can look pretty darn good when you sell the resulting fuels into low-carbon markets.
And so, Gevo began to rise, and rise and rise and rise. Back to a dollar a share by November. Four dollars a share in December, and $13.24 a share as of January. A market cap soaring to $2B this past week.
I had a conversation earlier this month with a large investment fund, they were looking for value investments in the renewables space — given how high many of the players had gone. He hadn't heard of GEVO, which I recommended to his attention. I sure hope he bought it, in volume, the price has doubled since that call.
All of this growth has allowed the company to raise $350 million in a share offering this past week — 43.7 million shares at $8 per. Gevo's back to being a Wall Street darling after The Wilderness Years, as the 1930s were described with respect to Winston Churchill, who sat in the shadows as unjustly and as long.
Is Gevo back? No, Gevo never left. What's happened? Those things that Gevo long predicted — a future where renewable fuels would do good, and do well — have come to pass. If they are crowing triumphantly for a few days at their reversal of fortune, we'll not say a word in criticism, for it has been a long stretch of sailing in the Doldrums, but tomorrow it is back to work.
Net Zero Projects
As Gevo outlined recently, it plans to build Net Zero Projects to produce energy-dense liquid hydrocarbons using renewable energy and Gevo's proprietary technology. Gevo is currently developing its Net-Zero 1 Project at Lake Preston, South Dakota. Gevo management said they expect Net-Zero 1 would have the capability to produce approximately 45 million gallons per year of liquid hydrocarbons (jet fuel and renewable gasoline) that when burned should have a "net-zero" greenhouse gas footprint as measured across the whole of the lifecycle based on Argonne National Laboratory's GREET model.
In addition, Net-Zero 1 is expected to produce at least 350,000,000 lbs/yr of high protein animal feed. To reduce and eliminate the fossil resources used in the plant, it is expected to have an anaerobic digestion wastewater treatment plant that is capable of generating enough biogas to run the plant and supply a combined heat and power unit, capable of meeting approximately 30% of the plant's electricity needs. The remaining 70% of electricity to run the plant is expected to come from wind power. Net-Zero 1 may also obtain renewable natural gas using manure from dairy or beef cows.
Here's the latest Gevo presentation explaining the what, how, who and when of their deployments and partnerships.
Jim Lane is editor and publisher  of Biofuels Digest where this article was originally published. Biofuels Digest is the most widely read  Biofuels daily read by 14,000+ organizations. Subscribe here.