by Jim Lane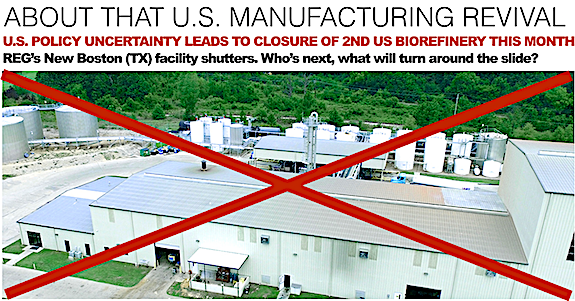 In another small but sharp blow to the Trump Administration's strategy for American manufacturing revival, news arrives from Texas of a second smaller biodiesel shuttering owing to " challenging business conditions and continued federal policy uncertainty," as Renewable Energy Group (REGI) phrased it in announcing the closure of its15 million gallons per year New Boston, Texas biorefinery.  The company is currently working with plant employees on relocation opportunities within the production network.
The tax credit issue
The forces impacting the US biodiesel industry at present are complex, but REG in this case is pointing the blame at the biodiesel tax credit, the renewal of this tax credit has been stalled for more than 18 months in Congress — the credits expired at the end of 2017 — and there has been no definitive progress on renewal (or clear progress on new directions) from Congress, which has stymied the US biodiesel industry in terms of its long-term capital and operating strategy formation and execution.
"This closure comes today as a result of the poor economics over the last 18 months resulting in large part from the uncertainty surrounding the Biodiesel Tax Credit," said Cynthia J. Warner, REG President and CEO.  "Despite significant bipartisan support, Congress' inaction on this value-added incentive has led to unsustainable market conditions."
Iowa US Senator Chuck Grassley was more blunt. "The long delay in addressing these provisions is needlessly putting thousands of good paying green jobs at stake. A couple of weeks ago we saw a biodiesel plant in Nebraska close down, costing about 40 employees their job. And just today Renewable Energy Group announced it's closing a Texas plant due to the uncertainty of the tax credit. Should we fail to extend the biodiesel tax credit soon, many more could follow. That would put the 60,000 jobs supported by the biodiesel industry nationwide in jeopardy."
As Grassley tipped, earlier this month the Duonix joint venture between Flint Hills Resources and Benefuel announced the closure of their biodiesel plant in Beatrice, Nebraska.
Both the Duonix and New Boston decisions were styled as plant closures, rather than idlings, and the future of the respective project sites is unclear at this time, though we can essentially rule out re-opening of the plants under current conditions. Divestiture or scrapping — and re-purposing under new management — all have to be considered possibilities for the projects., For the employees, it represents a heartbreaking cessation, and the loss of good-paying jobs in rural America.
Grassley takes to the Senate floor
Grassley pointed the finger at House Democrats for stalling on the tax extenders package.
"The budget and debt limit agreement announced Monday is yet another missed opportunity to provide answers for the millions of taxpayers – both individuals and businesses – who are waiting on Congress so they can finalize their 2018 taxes and in some cases even stay in business. While Finance Committee Ranking Member Wyden and I have been ready and willing to address tax extenders since early on in this Congress, the new Democratic majority in the House of Representatives has been reluctant to act."
It may well be that the failure to include a tax extenders package in the budget and debt agreement was the final straw for REG management in terms of the decision on the fate of the New Boston plant.
According on Grassley, according to the U.S. Joint Committee on Taxation reports that green energy incentives make up 60 percent of the tax extenders package, including provisions for renewable fuels, to promote electricity generation from  renewable sources and tax incentives for more energy efficient buildings and homes.
Grassley noted:
"Here I would have thought the new Democratic majority in the House would be all about "green jobs" and reducing our nation's carbon emissions through alternative-energy sources. Yet, they have been reluctant to embrace a bipartisan tax package with nearly 60 percent of the cost dedicated to green-energy incentives. These provisions include relief for homeowners who obtain debt forgiveness on a home mortgage, a deduction for mortgage-insurance premiums and a provision that allows college students to deduct tuition and related expenses.
"To highlight just one of these provisions, in 2017, over 1.5 million taxpayers took advantage of the college tuition deduction. You can think of that as over 1.5 million students who have been left dangling for 2018 and so far this year as Congress continues to consider whether or not to extend this deduction."
The New Boston backstory
We reported in November 2012 that REG had  acquired the 15 million gallon per year biorefinery located in New Boston, Texas, REG paid $300,000 in cash and issued 900,000 shares of its common stock to North Texas Bio Energy for the multi-feedstock biorefinery located about 22 miles west of Texarkana. It was REG's second Texas biodiesel production facility, following its 2008 acquisition of its Houston-area plant. The New Boston facility began production in June 2008 and has been idled for approximately four years.
We reported that the plant underwent construction and upgrades and re-opened in July 2013. At the time, REG planned to utilize animal fats and other high free fatty acid feedstocks to produce biodiesel at the refinery.
In many ways, a change in policy helped propel REG to make the acquisition in the first place. As we reported in August 2011, a change in Texas law came into effect that month that offered a more straightforward way of tracking biodiesel use, and therefore qualifying for a tax exemption. Previously, oil companies had been required to track and report biodiesel blending to the tenth-of-a-percent but the new rule allowed tracking to a whole percentage point. The old rule had been burdensome for most, meaning many didn't take advantage of the tax break nor biodiesel blending. The change had been tied to hopes for a stronger biodiesel market in Texas. h
The New Boston story over the 6-1/2 years of REG ownership had been one of significant strides towards better operation and cost. In the end, not enough.
"We truly appreciate all the efforts of our team and those that support our New Boston plant," said Brad Albin, Vice President of Manufacturing.  "They significantly improved safety, demonstrated capacity, yield, quality and costs. However, these improvements could not overcome the unfavorable economics of the plant relative to our other options for ongoing focus and forward investment."
Other economic forces at work
Facility size increases. While a 15 million gallons facility would not have been considered large by industry standards even back in 2012, the size of typical biodiesel or renewable diesel plants has been on the rise. NEXT Renewables has announced a 600 million gallon project for the Columbia River, REG and Phillips are planning a 250 million gallon renewable diesel plant in Washington state, World Energy is expending to 300 million gallons in California, and Diamond Green Diesel is expanding its 170 million gallon facility in Louisiana. The pace of construction and the scale of production is widely considered to be great news for renewables, but puts added pressure on smaller facilities.
As REG CEO CJ Warner noted for the Digest readers, "There's a strong analogy to oil refining, here. Over time, we will see greater economies of scale and larger projects, that's the natural progression and it's good for everyone. But, the smaller plants have a place, especially if they have good locations, adjacent to a feed or a product market, and that's especially the case with biodiesel. There are good reasons why smaller-scale plants can work well, whereas for renewable diesel it really needs to have scale because of the capex involves. The problems come when the policy uncertainties mount up."
EPA policy on biodiesel expansion. The EPA has proposed, even in the face of massive proposed capacity expansions, to keep US biodiesel mandates at the 2,4 billion gallon mark through 2020 and 2021. And, small refinery waivers have destroyed demand for biomass-based diesel as well as ethanol in the US.
Warner commented,"there has been a very broad brush painted on the Renewable Fuel Standard, and almost a complete misunderstanding of the differences between the ethanol and biodiesel economics. They are not very similar in many important respects. As Scott Irwin in an important paper out of the University of Illinois pointed out, with the way ethanol is used for gasoline and octane, the small refinery exemptions have not resulted in the kind of demand destruction as we have seen with biomass-based diesel. The RVO has not been expanding, and when you add in these waivers, the total volume impact is significant."
And, a recent win for ethanol on E15 isn't going to add any joy for biomass-based diesel, either. With year-round ethanol approval stuck for many years at E10, the oil industry blended as much as 300 million gallons of biodiesel in select years to comply with the general volume requirements that both corn ethanol and biomass-based diesel can be used to satisfy. The E15 year-round approval was a huge win for ethanol, but was of negative value for America's favorite advanced biofuel.
Trump gets a raspberry from farmers in Iowa
It may be that the biodiesel impacts of recent actions on the RFS led to an unexpectedly sour reception for President Trump in a farm state tour, according to observers who had expected the President's reception to be "a victory lap". The Digest has learned that, on Air Force One after leaving the Midwest, the President expressed dismay at the impact the EPA's small refinery waiver program was having with his political base. "I don't understand why Exxon gets one," the President is said to have remarked. EPA Administrator Wheeler struggled to explain the optics of a program that focus on refinery profits and hardship rather than refiner profits and hardships, but is described as having pushed back hard with the President on the basis that the EPA is required to follow the law regarding refinery waivers. Trump's reported reaction to the problem? It's up to Agriculture Secretary Perdue and Administrator Wheeler to work it out.
More economic forces at work
Low soybean prices. Trade difficulties with China have been cited as a factor in low prices for US soybeans, and that's meant that plants using advanced technology to process more exotic feedstocks, such as waste oils and greases, have faced tougher competition from first-generation soy oil-only plants.
REG's Warner noted, "Here's another case where an analogy to oil refining is helpful. As refiners started to invest in higher complexity configurations, for example to handle higher sulphur and lower cost crudes, there became a light/heavy differential in the market for crude feedstocks. If you had a refinery focused on light, sweet straight refining, you hardly made any money but sometimes you could do better than anyone else, when the differential between the heavy and light feedstocks changed dramatically.
In our business, there's usually a big discount for the more challenging feedstocks, and soy is more expensive, like the light sweet crude. The straight run soy biodiesel plant is harder to make money at in most cases, but right now we have have a shrinkage of that differential."
Exports. Export conditions are not favorable owing to trade wars, low oil prices, and uncertainty over the future of diesel engines, and international policy uncertainty.
Are there export opportunities? Yes, says Warner, but points us to carbon intensity. "That's the key," she said. For more and more states and nations, the value of a lower carbon intensity fuel is rising, and for that reason a biomass based diesel can be very effective. There will be more demand for low carbon intensity fuels and the Nordics are an example. Also, Canada is developing a program, and British Columbia already has a program."
California's Low Carbon Fuel Standard impact. The LCFS favors renewable diesel, which generally has lower carbon intensity scores and higher blend rates than conventional biodiesel. This has the impact of steering REG's attention, among others, towards large-scale renewable diesel plants using waste-based fats, oils and greases.
Not so fast, cautions Warner. "Our new blend UltraClean as a combination of biodiesel and renewable performs very well for engine and environment. Also, we can blend biodiesel at a higher percentage than in the past, and we have opportunities in the Midwest now for B100 even in the polar vortex. People have thought of biodiesel as a B5 product, or a B20 in the summer, but through technology we are seeing that change."
Capex opportunities elsewhere
For companies such as REG and JVs such as Duonix, the capex requirements — for creating a scale of production and favorable feedstock mix that made these two projects more competitive — proved to be prohibitive. Simply put, companies like REG have been forced by US policy uncertainty into a quandary over potential costs of capital (not knowing whether expansion could be financed through cash flow or by debt, for example), and that's bound to stymie investment at the more marginal project sites, possibly now as well as into the near future. Only the largest and most profitable refineries and new projects are likely to clear the risk vs return hurdle while bumpy US policy continues to confound experts, producers, and analysts.
As Warner confirmed to the Digest, "you need to have certainty to invest, so the programs have to become law, and there has to be a track record that warrants the risk."
The Bottom Line
Is this the end to plant closures, or idlings and slowdowns? Unfortunately, it is not likely to be the case — more facilities are bound to be impacted the longer this policy impasse remains. Though the nameplate production is small in the case of New Boston, it's a sign of the times and not a good one.
The fix? For now, there are three opportunities, all in the hands of the  US federal government, that could provide more support for the renewable fuels industry and the advanced manufacturing job growth.
1. More positive action from the Trump Administration on trade that could re-open export opportunities for fuels or soybeans.
2. EPA action on biomass-based diesel demand targets.
3. Action from the Congress on the renewal of the biodiesel tax credit.
Longer term opportunities? Oil prices are expected to rise in 2020 and may remain elevated over current conditions throughout 2021. Currency moves may help US producers more in the future — the dollar is strong at the moment, making exports even tougher than they already are. Also, further bans on palm oil as a feedstock for biodiesel — in the EU or elsewhere — would also be beneficial for US producers though not for overall global biodiesel demand.
Jim Lane is editor and publisher  of Biofuels Digest where this article was originally published. Biofuels Digest is the most widely read  Biofuels daily read by 14,000+ organizations. Subscribe here.