by Tom Konrad, Ph.D. CFA
The Baltic Dry Index (BDI) is a shipping and trade index created by the London-based Baltic Exchange. It measures changes in the cost of transporting various raw materials, such as coal and steel.
Since the BDI is a measure of the income which firms that own dry bulk cargo ships can earn, changes in the BDI tend to drive changes in the stock prices of such companies.
Stock Price Correlation
Until recently, one such company was Scorpio Bulkers (SALT), one of my Ten Clean Energy Stocks for 2021 picks. The chart below shows the last 5 years, with changes in the BDI leading to changes in SALT's stock price.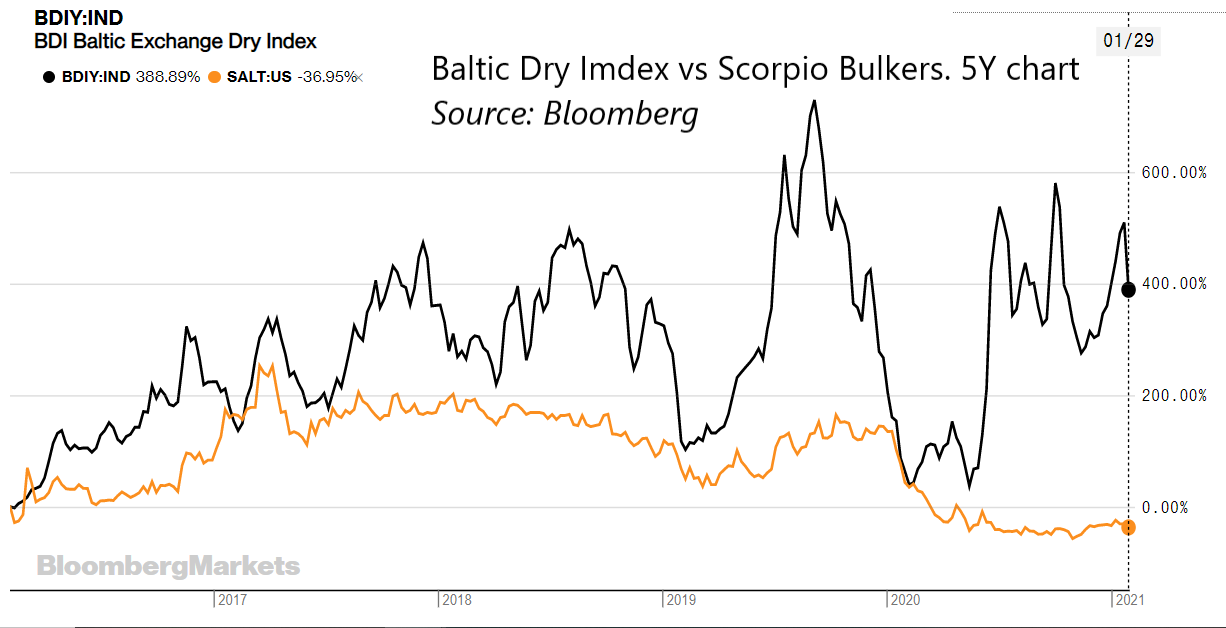 There is also one notable exception to these correlated moves in June 2020, when the company recapitalized in a secondary offering.
On August 3rd, SALT announced its new strategy of investing in the next generation of offshore wind turbine investment vessels and selling its fleet of dry bulk carriers.
As SALT's dry bulk fleet is sold, the company's future earnings become increasingly independent of BDI. If the market were acting rationally, the correlation of the stock with BDI should also fall over time.
We're not seeing that.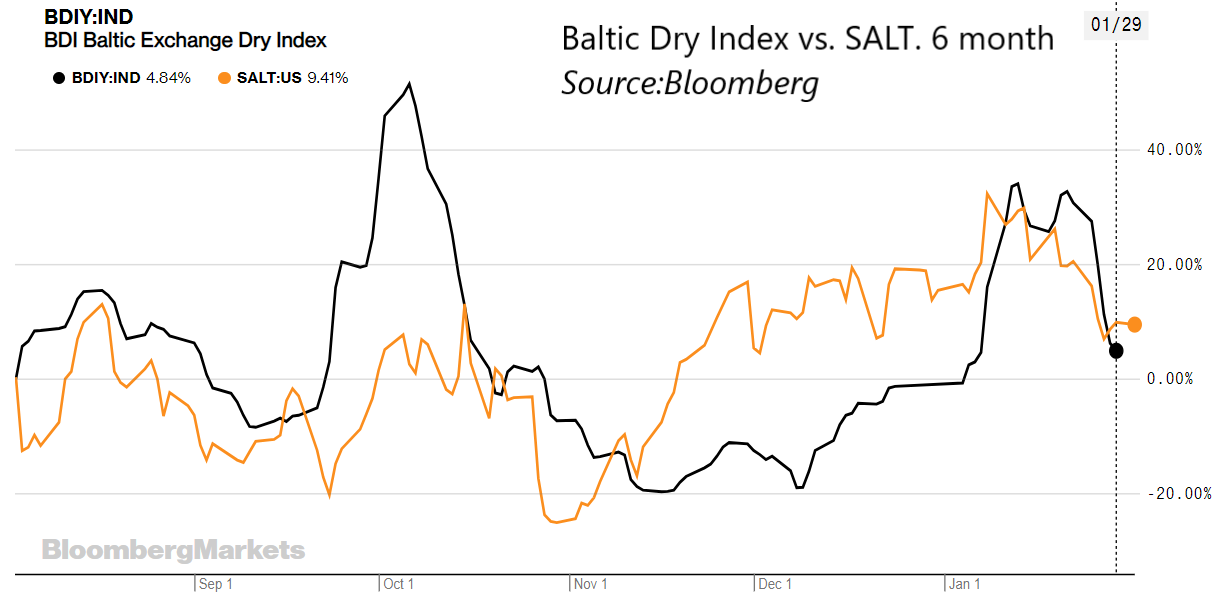 In October, 50-ish percent moves in the BDI led to 25-ish percent moves in SALT. In January, we saw two 30-ish percent moves in the BDI, and the corresponding moves in SALT were around 10 percent to 20 percent.
Vessel Sales
In both cases, the stock moves were approximately half the size of changes in the BDI. Between the start of October and the end of January, SALT announced the sale of 22 Vessels: 7 in October, 3 in November, 6 in December, and 6 in January. The company has sold approximately two-thirds of its fleet since the new strategy was announced on August 3rd, but the stock is still following the index..
Why is BDI Still Driving the Stock?
The continued correlation between SALT and BDI is likely due to quantitative hedge funds using programmatic trading to take advantage of correlations between BDI and all dry bulk shippers. Some of these programs (which may rely entirely on machine learning) have not yet been updated (or updated themselves) to reflect SALT's declining dependence on dry bulk shipping for its future earnings.
Timing
When a stock falls for reasons that do not have to do with its fundamentals, I call it a buying opportunity.
BDI and SALT have both fell in late January. Enough said.
DISCLOSURE: Long SALT.
DISCLAIMER: Past performance is not a guarantee or a reliable indicator of future results. This article contains the current opinions of the author and such opinions are subject to change without notice. This article has been distributed for informational purposes only. Forecasts, estimates, and certain information contained herein should not be considered as investment advice or a recommendation of any particular security, strategy or investment product. Information contained herein has been obtained from sources believed to be reliable, but not guaranteed.