By Tom Konrad, Ph.D., CFA
About a month ago, an astute reader asked me if Eneti's (NETI) contracted Wind Turbine Installation Vessel (WTIV) would be able to operate in US waters since it will not be compliant with the Jones Act.  For those not familiar, the Jones Act requires that all transport of goods between US ports must be done by vessels built in the US, and owned and operated by US citizens.
I looked into it, and concluded that it probably could, since installing wind turbines is not transport, but rather lifting (jack-up, in the parlance), an exemption which is already used in the oil and gas industry by drilling vessels.  
It turns out I was correct in a legal sense, but not in practice.  
Normally, a WTIV both transports the turbines to the installation location, and then installs them.  According to Enerti investor relations, "There are a variety of opinions about how these components could be safely transferred on the outer continental shelf.    Many experts, and most importantly a number of field developers, are having difficulty getting comfortable with the risks involving barges and existing marine assets in US."
Hence, Eneti's first WTIV is most likely to be deployed in Europe or Asia.  The long lead times for large WTIVs and trend towards using larger and larger turbines for offshore wind means that the company expects to find a lease for its first vessel long before it is complete in 2024.  The company expects "to announce an employment contract for our first new-build vessel within the summer of next year, 2022."  That contract, and the certainty it will bring to future revenues, should give the stock a significant boost when it is announced.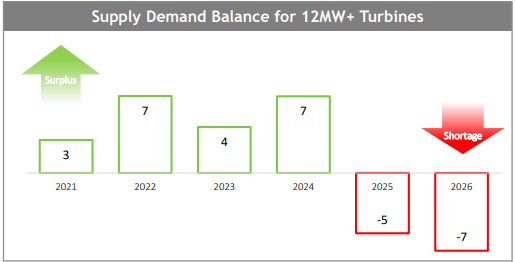 There is currently only one Jones Act compliant WTIV under construction in the US. This vessel is being built by Dominion Energy to suit its own anticipated needs.   Eneti is exploring contracting for its own Jones Act compliant WTIV. It is currently in discussions with potential customers and US shipyards about their likely needs to determine the best configuration of the vessel.  In order to comply with the Jones Act, Eneti will be neither the majority owner nor operator of the vessel. It is in discussions with potential partners for these roles.
Taking The Time To Get It Right
Based on the discussions so far, Eneti anticipates that this potential Jones Act compliant WTIV will have a different configuration than either its first vessel, or the one under construction by Dominion Energy (D).  Like the first vessel, Eneti plans to design the specifications in order to best meet its expected customers' needs at a reasonable construction cost.
The process of taking extra time to nail down the best configuration of its first vessel added to the cost because of the recent large increase in steel prices.  While Eneti management anticipates the extra cost will turn out to have been worth it, I anticipate that taking a little extra time is likely to be advantageous with this second vessel if that gives steel prices time to drift down from their current lofty levels.
Conclusion
I remain enthusiastic about Eneti stock, which I believe has yet to catch the attention of most clean energy investors.  When will that happen?  It's unpredictable.  It could be today, if a large fund manager reads this article and decides to go all in.  It could be when the first WTIV is contracted to its first customer, or when a Jones Act compliant vessel is contracted to be built.  
Timing is always uncertain.  What I am certain of is that Eneti will catch the attention of clean energy investors eventually.  For now, it is my largest holding.
Disclosure: Long NETI
DISCLAIMER: Past performance is not a guarantee or a reliable indicator of future results.  This article contains the current opinions of the author and such opinions are subject to change without notice.  This article has been distributed for informational purposes only. Forecasts, estimates, and certain information contained herein should not be considered as investment advice or a recommendation of any particular security, strategy or investment product.  Information contained herein has been obtained from sources believed to be reliable, but not guaranteed.