Thank Elon Musk with his Tesla (TSLA) gigafactory for sparking a global obsession with lithium-ion batteries and the materials need to turn them out.  Claimed by Musk to be the largest building in the world, the factory was planned to reach capacity in stages.  By the time the factory is fully completed in 2020, production capacity is expected to be 150 gigawatt hours of battery packs.
Ever since construction of Musk's gigafactory began in 2014, investors around the world have been fretting over the adequacy of lithium supplies in particular.  The gigafactory concept appeared to trigger a whole slew of 'me too' factories with at least a dozen now in construction and commissioning stages in the North America, Europe, China and Southeast Asia.  According to Roskill, a London-based consulting firm, lithium demand from battery cell makers is expected to double by 2027, to one million metric tons of lithium carbonate equivalent.
Projections of lithium demand have sent the lithium mining industry into a tizzy.  The leaders like Sociedad Quimica y Minera (SQM:  NYSE), Albemarle Corp. (ALB:  NYSE), FMC Corporation (FMC:  NYSE) and Tianqi Lithium (002466: SZ) smooth out maps and scanned geological reports to expand production.  They were not alone.  Any number of explorers and developers hit the dusty roads winding through deserts and mountain ranges to confirm and measure precious lithium deposits.
It has been a race among the new developers to see who would reach the market first.  One of the winners is Nemaska Lithium (NMKEF:  OTC/PK, NMX:  TO).  In September 2017, Nemaska began producing battery-grade lithium hydroxide solution at a pilot-scale plant using spodumene concentrate from the company's Whabouchi mine in northern Quebec. Nemaska has successfully started filling purchase orders in Summer 2018.
Nemaska has not just brought new lithium supplies to the market.  The company has also developed a new electrochemical process to produce battery-grade lithium materials from spodumene, a crystalline mineral found around the world.  Nemaska has located its electrochemical plant in Shawinigan in south eastern Quebec, a location favored by paper mills and power plants.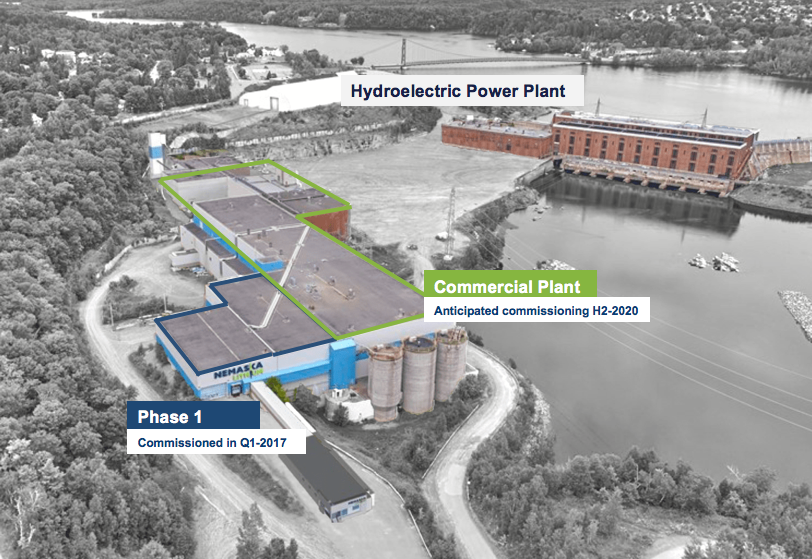 Lithium is usually separated from spodumene through a series of processes, beginning with wet and dry screening of the crushed rock.  The flotation stage material is then subjected to high temperature and chemical roasting using sulfuric acid.  Additionally, soda ash is used to produce lithium carbonate.  It is a capital and labor intensive process not to mention the environmental consequences of using harsh chemicals and large amounts of water and energy.
Nemaska has developed a process based on electrolysis.  True enough the method requires copious amounts of electricity  –  something that is easy to come by in the Shawinigan area.  However, it eliminates the need for harsh chemicals, including the soda ash needed for lithium carbonate.  The streamlined process delivers important cost savings to Nemaska.
Demand may be building for lithium supplies, but that does not mean lithium producers can expect ever higher prices.  Indeed, Roskill is predicting lower selling prices ahead even as demand for lithium hits unprecedented levels.  That is because new supplies are coming on line and could swamp the market –  at least in the short-term.  Lithium carbonate is expected to level off near $11,000 per metric ton in the next three years compared to the current average near $14,000.  Likewise lithium hydroxide is expected to follow a similar path from the current $16,500 per metric ton to near $13,000.  Roskill does suggest that in the long-term prices should return to peak levels set in 2018.
If reduced selling prices are ahead, low-cost producers will be favored over the rest of the pack.  This is perhaps one of the most important points of the Nemaska investment case  –  comparative advantage.  Roskill does suggest that in the long-term prices should return to peak levels set in 2018.  In the meantime, Nemaska's streamlined electrochemical process to produce battery-grade lithium is more likely to deliver profits even under depressed price conditions.
Nemaska's financial strength will be the focus of the next post in this two part series.
Debra Fiakas is the Managing Director of Crystal Equity Research, an alternative research resource on small capitalization companies in selected industries. Neither the author of the Small Cap Strategist web log, Crystal Equity Research nor its affiliates have a beneficial interest in the companies mentioned herein.
This article was first published on the Small Cap Strategist weblog on 10/23/18 as "Nemaska's Recipe for Lithium Success."