by Roel Aerts
Greystone Logistics (GLGI) designs and manufactures plastic pallets for the logistics industry. They use recycled plastic which would otherwise be destined for landfill. They grind and pelletize the plastic in house. Injection molding and proprietary resin blend is used to manufacture the pallets.
Greystone is headquartered in Oklahoma and has its manufacturing plant in Iowa.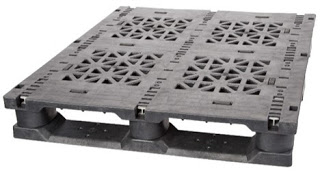 Recent results and Financials
· The company had invested heavily in manufacturing equipment several years ago, that loaded them with quite some debt. Over the last years they worked on a massive reduction in debt. In 2 years they reduced it from 21.6M$ to 9.4M$ currently (debt minus cash).
· Very high free cash flow generation in fiscal 2021, 12M$. At this pace they theoretically could be debt free end 2022 if they choose to be.
· Gross margins of ~17% or higher from 2020 onwards (with the exception of last quarter). This was the effect of the investments in manufacturing equipment. Without being a subject matter expert, that sounds like a very high margin for a pallet, a commodity to me.
· High growth, 20% compounded growth in sales and gross margin from 2016 till 2020, 35% compounded growth in earnings. Shrinking numbers in FY2021. Can they pick up the growth path?
· Potential for reduced expenses in calendar year 2022, close to a million in interest payments vs. 2021 should they pay off the majority of debt, and several 100k$ in leases that run at lower lease cost in their last year.
· Last reported quarter, ending August 31 2021, was weaker than previous ones. Management attributes this to shortage of personnel in the COVID recovery and downtime on production machines. Driving down margins as well.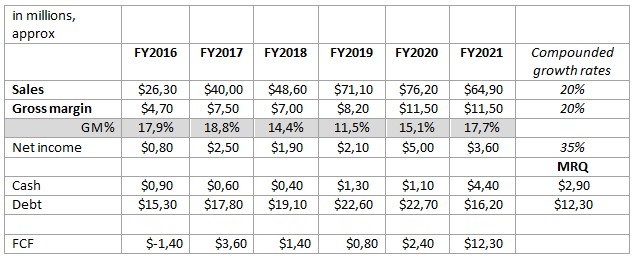 Outlook, growth opportunities
· Can they pick up the growth path from 2016 to 2020? Their high free cashflow should give them room to invest in growth. Growth stagnated and fell back in FY2021 and first quarter of FY2022. Global pallet market is forecasted to grow ~5% CAGR in the next years, however, Greystones growth potential is in customers that move from the omnipresent wooden pallets to plastics pallets. That growth rate could be, should be, much higher.
· Possible beneficiary of a green tailwind where customers want reusable, recycled solutions, often driven by consumer demand. Rising automation by pallet users could be growth driver as well
· "Greystone believes that the demand for its pallets is increasing which is primarily expected to have a positive impact on operations during the last half of the current fiscal year as well as future years." (Quarterly report Oct 2021)
Management, board and investors
· Lots of skin in the game, CEO owns more than 34% of common stock.
· Second largest shareholder is a Director, together with CEO they each own 50% of the preferred shares, they control the board.
Excellent multiples (TTM):
· P/S 0.4
· P/E 4.2
· P/FCF 2.5
Risks
· Nano-cap, only 24M$ valuation, with corresponding risks associated
· High customer concentration, less than 5 customers account for more than 80% of revenue. There has been gradual improvement over the past years. Risks associated with most small-caps.
· Control of the board by 2 persons. Are their interests aligned with common shareholders? High insider ownership is usually a good thing; for micro-caps, total control by insiders is something to watch. How to be sure they don't use the company as their private bank? (cf. Leases and loans directors have outstanding to the company; but those seem fair valued and limited in time, no signs this risk is materializing.)
Questions
· At what capacity level are they running?
Conclusion
This looks like a value play from the FY2021 numbers, but it could be an emerging growth story if they go try and pick up the growth path they were on in 2016-2020.
DISCLOSURE: Long GLGI
About the author: 
Roel Aerts is a retail investor with a focus on renewables and clean technology. Insights and analyses above are written for his own purposes and are shared to help others form an opinion and to gather feedback. It is not intended as investment advice and Roel is not an investment advisor.  Roel holds a master's degree in Electrical Engineering and in Industrial Management.