by Jim Lane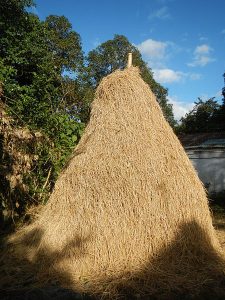 In our three-part series this month on utilizing waste resources, we'll turn to rice straw, which is a major headache for Chinese and Indian emissions. Praj and Gevo are working hard on perfecting a technology to address this.
Specifically, in the past month, Gevo (GEVO) also executed an agreement with Praj to develop jet fuel and isooctane from rice straw and other feedstocks. Gruber noted that "we believe this second-generation technology combination has great potential to address India's rice straw burning problem and related air pollution, while generating low-carbon hydrocarbons for jet fuel and gasoline. Praj is a leader in technology to convert straw and bagasse into fermentable sugars, their technology marries up nicely with ours—saves development cost and time, while creating new licensing opportunities."
Gevo's first quarter results
In Colorado, Gevo reported a $3.8M Q1 loss on $6.4M in revenue, and highlighted that its recent licensing agreement with Praj shows that "Gevo can complete a definitive agreement licensing our biobutanol biocatalyst technology on a commercial basis allowing us to move forward and license our technology for isobutanol from molasses and sugar. We look forward to further developing and completing licensing deals that we expect will generate revenue without us having to deploy capital."
The other major quarterly highlight was an agreement with the City of Seattle to utilize a blend of Gevo's renewable isobutanol with conventional gasoline in its pilot program to reduce the Carbon Intensity (CI) levels of fuels used in Seattle's fleet vehicles. For this program, Gevo has partnered with Hughes Group LLC, a Washington-based, Certified Service-Disabled Veteran Owned Business (SDVOB), to coordinate the blending, logistics, and delivery of the final product to the City. Additionally, Gevo is collaborating with the City to supply a renewable drop-in gasoline on an on-going basis to further reduce the Carbon Intensity of the fleet.
Dr. Gruber added, "In terms of operations, we continue to make progress on our plans to 'de-carbonize' our advanced biofuels production facility in Luverne, Minnesota. In April 2019, we began the commissioning of the Shockwave dry fractionation equipment. So far, the commissioning is on track. This technology fractionates the corn into a starch fraction, a germ fraction, and a fiber fraction. The germ will be pressed to extract food-grade oil. The starch fraction will go to fermentation as a feedstock. The fiber and germ protein are expected to be sold for value-added feed products for beef, dairy cows, pigs, and chickens. With this technology, we expect the margins for our feed-related products to improve. Over the coming weeks and months, we expect to begin sales of these new feed and protein products while optimizing the new process."
Given the small-scale of Gevo's operations and the parlous state of ethanol prices, the company continues to record product losses and the company's decision to limit production while product prices are low is going to limit opportunities to reach profitability without adding more value on the protein side and bringing in more high-value advanced biofuels sales or licensing revenues from the likes of Praj and other partners. Action on all three fronts is underway.
The company noted that revenues for the three months ended March 31, 2019 were $6.4 million compared with $8.2 million in the same period in 2018. Hydrocarbon revenues were $0.7 million compared with $0.0 million in the same period in 2018. Cost of goods sold was $9.0 million for the three months ended March 31, 2019, compared with $10.6 million in the same period in 2018, primarily as a result of decreased production of ethanol during the quarter.
Cash status is good. The company at March 31, 2019 had $35.5 million, and the total principal face value of outstanding debt was $13.8 million.
Elsewhere in Rice-based technology
In March, we highlighted as one of our Top 10 Innovations for the week that architect Philippe Madec expects biobased materials like rice husk to change architecture and help reduce greenhouse gas emissions from buildings. Rice husk peaked his interest after construction companies in Camargue, France began using local rice farming waste as insulation.
Once cleaned up, it becomes a high-quality insulating material, allowing houses to keep a homogeneous temperature in both summer and winter, with an energy consumption close to zero. All this while giving a welcome additional source of income for rice farmers. It can be used to build low-cost houses with structural longevity, thanks to its pest-resistance. An Italian group even built a US$1010, 3D-printed house there, using rice husk as well as earth, rice straw and lime, he adds.
In October last year, we reported that In India, Bharat Petroleum Corporation Ltd's commissioning of its second generation ethanol bio refinery will start building the proposed plant this week in Baulsingha and is expected to be completed by 2020. The refinery will use rice straw as its feedstock. Official sources told Petrol Plaza that they expect that this plant will help to create the biomass availability, which currently is set at about 120 to 160 million metric tons per year to meet the country's new 20% ethanol blending by 2030 mandate.
And last September, we reported that the state of Haryana has signed a Memorandum of Understanding with Indian Oil Corp. to build a 100,000 liter per day ethanol plant using rice straw as feedstock. The $124 million plant is hoped to provide a market for rice straw for local farmers to reduce the burning that plague's the region's air every year. The facility can also use sugarcane bagasse as feedstock during the months when paddy straw is not easily available.
Last June, we reported that Punjab's Minister of Power and Renewable Energy says he is working to promote the use of rice straw for bio-CNG and ethanol production in the state in an attempt to significantly reduce or eliminate burning of the 20 million tons of straw produced every year. About a quarter of it is used, but the rest is burned. Seven biomass-power plants using rice straw as feedstock are currently under development but the minister estimates as much as 6 tons of bio-CNG could also be produced.
Jim Lane is editor and publisher  of Biofuels Digest where this article was originally published. Biofuels Digest is the most widely read  Biofuels daily read by 14,000+ organizations. Subscribe here.