Car manufacturers have fully embraced self-driving or autonomous cars.  It is not because they have heard a loud clamor for such technology from consumers.  No, automakers are keen on the idea because manufacture of self-driving cars could help them overcome the short comings of highly cyclical sales pattern associated with its car dependent upon a single driver.  In other words, they are in it for themselves whether consumers benefit or not.

If consumers are not so important, at least investors should benefit. Besides the car manufacturers there are a few smaller companies that can give investors a taste of the self-driving car phenomenon.
LiDar and Sensors

Self-driving cars will not go far without guidance input about its immediate environment.  LiDar is a surveying method works much like radar, but uses pulsed laser light to illuminate a target and then measure the reflected pulses with sensors. Differences in laser return times and wavelengths are then used to create three dimensional representations of a target.  Such systems show great utility for controlling autonomous vehicles.
A key player in the LiDar field is LedderTech, a privately-held developer of sensor technology.  LedderTech just landed a $24 million bridge financing in the form of a revolving loan from Desjardins Group and a convertible note from Desjardins-Innovatech.  Expect LedderTech to come back to the capital market in the coming months to secure a longer-term financing.  In September 2017, the company closed a $101 million venture capital round that included investments by Osram Licht AG (OSR:  DE), Aptiv and Integrated Device Technology (IDTI:  Nasdaq).  GCA Advisors acted as the placement agent for the earlier round and could be a likely conduit for investors seeking a spot in LedderTech's next financing.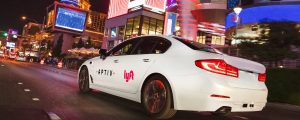 New car technologies are not just in the hands of high risk startups.  Headquartered in Ireland, Aptiv Plc. (APTV:  NYSE) manufactures electronic components and safety technology for cars and commercial vehicles.  Aptiv was previously called Delphi Automotive and is the remaining business after spin out of Delphi's legacy power train division.
What is left in Aptiv is the company's autonomous vehicle technology.  Aptiv deployed thirty self-driving BMWs in Las Vegas for use in a network service sponsored by the on-demand transportation service Lyft.  The cars are outfitted with Aptiv's LiDar and ultrasonic sensors.  After a four-month trial period, Aptiv celebrated a record 96% of riders giving the service a five-star rating.
Aptiv is fortified with acquired technology as well as its own.  Aptiv paid $450 million to acquire nuTonomy, a technology spin-out of the Massachusetts Institute of Technology.  Just like Lyft, nuTonomy has its eye on the nascent market for 'automated mobility on demand.'  Lyft also deployed nuTonomy's software solution in a car ride service in Boston.
Aptiv represents an old school company with a new age product line.  As such it presents a particularly compelling way to participate in the autonomous vehicle growth opportunities.  The company reported $1.0 billion in net income or $4.05 per share on $14.2 billion in total sales in the twelve months ending September 2018.  Aptiv is even mature enough to have established a dividend that delivers 1.4% yield at the current price level.
Lyft of its Own
Since partnering with Aptiv and several others with autonomous driving technology, Lyft made a strategic decision to develop its own technologies.  Building its experience in Las Vegas with the automated car service, Lyft appears poised to become a strong player in not only a competent service provider, but also a technology leader.
Privately-held Lyft is reportedly planning an initial public offering in 2019. Until then investors could tap into Lyft's ambition through its various investors.  One is option is Canada's Tier One auto parts manufacturer Magna International, Inc. (MGA:  NYSE).  Lyft received a $200 million investment from Magna as part of a $1.0 billion venture capital round led by Google's CapitalG.  The deal valued Lyft at $11.7 billion, providing the hint of a very exciting IPO!
Watchful Eye
Collision avoidance is important for self-driving cars and driver controlled cars alike.  Intel's subsidiary Mobileye Vision Technology Ltd. based in Israel has taken a lead in developing an advanced driver assistance system that is marketed to fleet owners such as trucking companies, law enforcement and bus line operators.  Intel claims Mobileye has captured as much as 70% of the market for driver assistance systems that have been included on at least 27 million cars already on the road.
Mobileye really did not capture anyone's attention until it landed a contract to supply an upgrade of its EyeQ4 to as the eyes of automated cars. Mobileye reportedly was in direct competition with Nvidia Corporation (NVDA:  Nasdaq) for the order.
Of course, the only way to get a stake in the 'eyes' of autonomous cars is to buy shares in its semiconductor industry partner, Intel (INTC:  Nasdaq). There are worse investments.  Intel delivers 21% return on equity and its dividend currently provides a 2.6% yield.
Mobility as a Service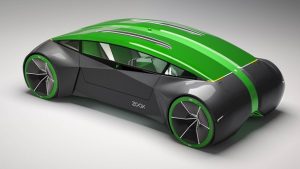 If a large semiconductor company with interests in automotive components is not appealing, private-held Zoox, Inc. might be an alternative. Zoox is a very early stage company with lofty goals for autonomous driving technology and mobility services.  Zoox distinguished itself by become the first company to be allowed to test driverless cars in California with real passengers.  The company wants to debut a ride-hailing service using autonomous vehicles as early as 2020.
It is an ambitious goal and that takes money.  Zoox has already raise a total of $800 million in two venture capital rounds.
Before investors start writing checks to invest in Zoox, the risks of an early stage operation should be fully considered.  The company has none of the stuffy protocols of an established operator like Intel or Aptiv.  However, there is still a bit of instability at Zoox as evidenced by the firing one of its founders just a few weeks after the closing of the round one financing.
These are dozens of companies, large and small, homing in on autonomous driving and the services that could develop using the technology.  The movement portends a significant change in the automotive industry as well as transportation fuel.  The individually directed car and its combustion engine have been a central part of modern American culture.  The muscle car of the fifties and all its attendant images of machismo and power is likely to become a thing of past.  It will be interesting to see what imagery advertisers and brand managers conjure up for the car that does everything.
Debra Fiakas is the Managing Director of Crystal Equity Research, an alternative research resource on small capitalization companies in selected industries. Neither the author of the Small Cap Strategist web log, Crystal Equity Research nor its affiliates have a beneficial interest in the companies mentioned herein.
This article was first published on the Small Cap Strategist weblog on 12/21/18 as "Stake in Autonomous Cars."