by Paula Mints
Transmission and distribution is the process of getting electricity from the point of generation to the point of use. Unfortunately, upgrades, maintenance, and the need to extend the electricity infrastructure from point a to point b are often ignored. Also ignored are infrastructure designs that support a distributed grid with renewable energy sources of electricity.
Transmission bottlenecks are the utterly foreseeable consequence of accelerated solar and
wind deployment. As countries worldwide were announcing RE goals, holding auctions, and providing incentives, system operators everywhere were warning about the need to add new and upgrade existing infrastructure while also warning about the effect of variable sources of electricity production on the grid and mismatched peaks.
The industry and governments listened, but governments and utilities didn't act. And then,
seemingly overnight, accelerated solar deployment DID happen, bringing long queues for transmission studies, high costs for the new transmission, long connection queues, and curtailment as a special treat.
Ontario, Canada, offers an example of what happens when a country moves to accelerate
solar deployment by offering healthy incentives without considering whether its  infrastructure is up to the deployment goal. In 2009, the province's government announced a generous 20-year feed-in-tariff for rooftop and utility-scale solar and a CAD $2.3-billion T&D plan. The new feed-in tariff was the centerpiece of Ontario's Green Energy Act. The act also made connection permits easier and established a Right-to-Connect for RE projects of any size. Project approval queues sprang up overnight, as did requests by homeowners. Unfortunately, projects were proposed in areas where new transmission was necessary to deliver the electricity to the demand centers. After experiencing long wait times, developers began canceling projects.
Ontario applied restrictions and fines to prevent early and easy exits but, as transmission
building continued to lag, was forced to allow developers to exit without penalty.
When Ontario first announced its FiT, it expected gigawatts of deployment. Though installations in Canada did increase, mainly in Ontario, deployment was primarily rooftop and far below expectations. Figure 1 depicts solar growth in Canada from 2009 through 2019. Deployment is, again, primarily in Ontario.
Canada Demand Growth, 2009-2019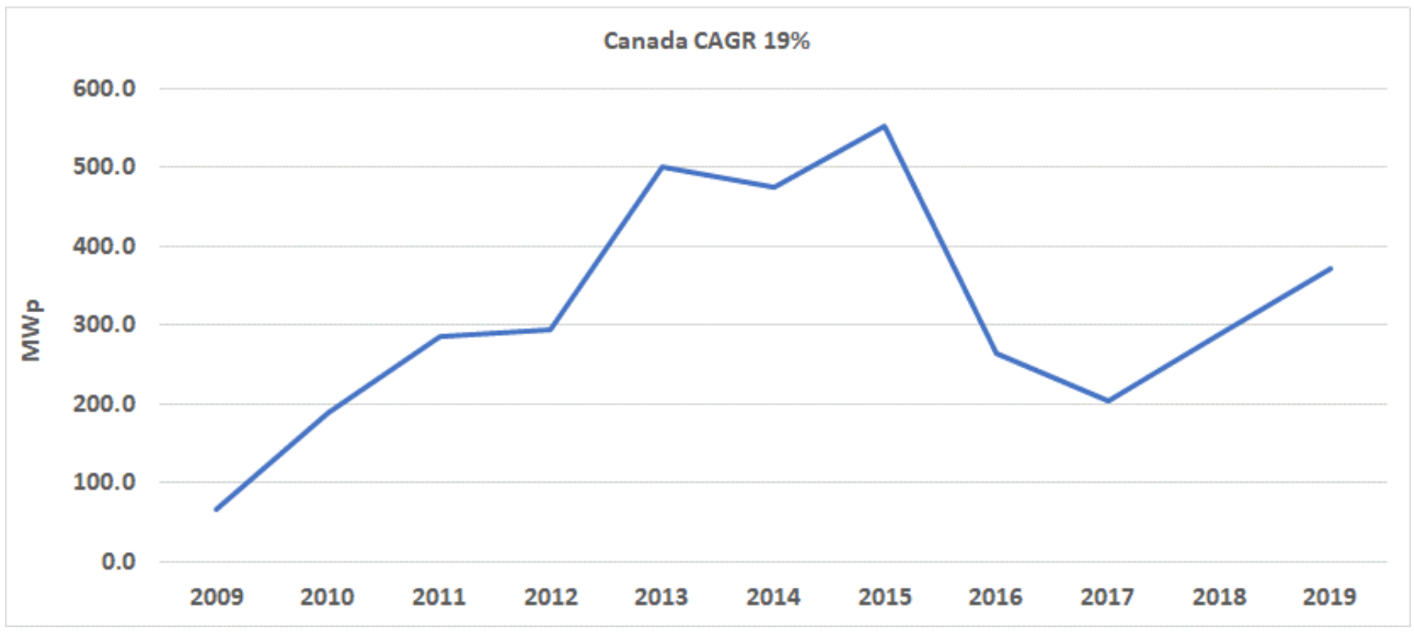 Over ten years ago, California's Independent System Operator stated that increasing solar on the state's grid would strain resources partly because of inadequate transmission and partly because solar's peak is a mismatch for the demand peak – the infamous duck curve. The mismatch can be mitigated with storage, but over ten years ago, storage was considered too expensive and, in some cases, unnecessary. One west coast utility announced that it did not need storage but would instead strategically install wind and solar, assuming that wind would take over when solar stopped producing. As everyone knows, it never pays to bet on the weather. Sometimes the wind doesn't blow, and the sun doesn't shine.
The current situation, understood well by developers, is for longer wait times for transmission studies to begin and higher costs for transmission when they do. Building new transmission is, ballpark, $1-million a mile (or so), with the cost of undergrounding lines much higher. Who pays? – often the developer. Other project delays, such as permitting and offtake agreements, are icing on the unpalatable cost-overrun cake.
The infrastructure problem is global – and since deployment activity continues apace, it's  not improving.
Most countries, for example, China, though the problem is far beyond just one country, continue installing and simply do not connect new systems to the grid. Systems that are connected to the grid are almost always subject to curtailment.
Transmission planning is the boring, necessary stuff of getting electricity from one point to
another. Rethinking infrastructure to enable a world dominated by renewables is a challenge – and an expensive one. The electricity future cannot be a reimaging of the past. It will take bold thinking and unpopular action to redesign the current electricity structure, literally, tear it down, redesign, and build new – one circuit at a time if that is the only way to move forward.
What the world needs now isn't love, sweet love (What the World Needs Now is Love, lyrics, Hal David); it's a T&D infrastructure that serves the present and addresses the future.
Paula Mints is founder of SPV Market Research, a classic solar market research practice focused on gathering data through primary research and providing analyses of the global solar industry.  You can find her on Twitter @PaulaMints1 and read her blog here. 
This article was written for SPV Reaserch's monthly newsletter, the Solar Flare, and is republished with permission.