by Jim Lane
If you've not heard, NuGenTec is looking for Distillers to help supply Ethanol for Hand Sanitizers in California! We have two automated bottling lines waiting for ethanol to produce 8oz and 16oz gel type hand sanitizers, they write. You can learn more here.
And as we reported this morning, Aemetis (AMTX) is one of those companies jumping into the market, even as transport fuel demand falls off, driving fuel ethanol prices into an all-time low range of around $0.70 per gallon.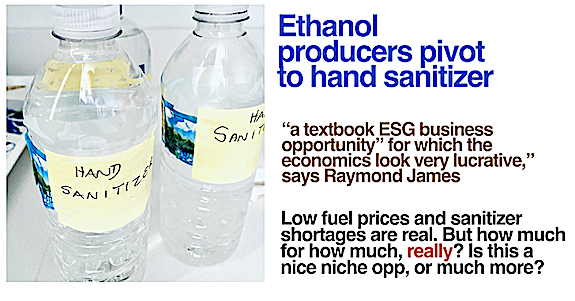 The shortage is real
If you've been trying to buy hand-sanitizer, it's been hard to find. Here in Digestville, we've been making our own from 25 percent Aloe Vera and 75 percent rubbing alcohol. Most authorities have emphasized a 2:1 alcohol to Aloe Vera ratio, but Aloe Vera has also been hard to find near Digest HQ. On Friday, a shipment arrived but it was the industrial bags that go in large dispensers at offices and hospitals, not the individual spray bottle variety.
The catalyst
The catalyst? In response to the Coronavirus Disease 2019 (COVID-19) pandemic, the Alcohol and Tobacco Tax and Trade Bureau (TTB) created exemptions allowing certain alcohol fuel permit holders to sell ethanol (alcohol) for use in the production of hand sanitizers.
Consequently. Aemetis, Inc. said its 65 million gallon per year ethanol plant near Modesto, California has begun shipments of 200 proof alcohol for use in the production of hand sanitizer, which is in a significant shortage created by the worldwide spread of Coronavirus (COVID-19).
"Can't hand sanitizer save the industry now?"
As an Argus media reporter asked at an emergency RFA online press conference on the coronavirus crisis, "why can't the whole industry pivot to industrial ethanol production? Why can't hand sanitizer save the industry now?"
The response from Randy Doyal, CEO, Al-Corn Clean Fuel, based in Minnesota was that there would be less vodka but more hand sanitizer coming in the next week to 10 days.
The good news
As Raymond James' Pavel Molchanov observed this week, "Just as automakers converted their plants to supply tanks and fighter jets during World War II, and those same companies are now looking at supplying ventilators, many other enterprises amid the COVID-19 crisis are looking for creative ways to address the public health emergency. Here is one that, we admit, we would not ordinarily think about: producing hand sanitizer from corn ethanol.
"Aemetis, an early entrant into this market, points to prospective pricing of $70+ per gallon (yes, really). Amid oil prices at nearly 20-year lows, well below $30/Bbl, it goes without saying that ethanol prices are depressed: currently around $1.00/gallon. Selling into the hand sanitizer market can offer pricing that is 70x higher. Yes, you read that right. To be sure, the economics vary on a site-by-site basis, based on (among other things) proximity to hand sanitizer production facilities. Aemetis (AMTX), which produces ethanol in California, has the advantage of being located on the West Coast, and last week it became one of the first ethanol players to take advantage of the Treasury's authorization. From our conversation with Aemetis, here is the economic proposition, in general terms… Retail stores are selling hand sanitizer at around $1.50/ oz. Of that, $0.50 goes to the retailer and distribution, $0.20 for packaging, and $0.20 for the compounder. That leaves $0.60 for the ethanol feedstock. With 128 ounces in a gallon, the implied selling price is upwards of $70/gallon."
Raymond James rates this as as "a textbook ESG business opportunity" for which the economics look very lucrative. "At a time when ethanol prices are ultra-depressed due to the oil price meltdown, this is a fascinating, below-the-radar opportunity for ethanol producers, including Green Plains," Molchanov writes.
Some market sizing
Hmm. Let's quickly demolish the thought that this is anything but a small-scale opportunity.
The recommended usage, by the CDC, is 1.5 mL per application. Assuming, say, two usages per day by everyone in the United States, that would add up to around 45 million gallons of sanitizer over the next 6 months. Now, sanitizer is around 1/3 alcohol — so consider the maximum market size to be around 30 million gallons.
That's US ethanol production for about 17 hours.
Now, we've assumed a perfect market. Imperfections abound. Two could make the market bigger, and that's over application or simply stocking up on extra hand sanitizer. But many more factors could make the market smaller. First, not every person in America may hand-sanitize twice a day – they might wash their hands, do nothing, or the expected usage may not apply to children or people sheltering in place. Also, there are the existing suppliers of industrial alcohols. And, there is the problem of offtake contracting, manufacturing, shipping, retail display contracting and so forth.
And, the more ethanol producers that qualify for this market, the lower the price will go. Not to mention that the entire market is predicated on a waiver granted by the Alcohol and Tobacco Tax and Trade Bureau. And we know how reliable the US government has been on waivers that are friendly to the US ethanol industry.
To pivot entirely to producing hand sanitizer, every adult in the United States would have to sanitize more than 625 times per day.
Doesn't mean it's not a clever, niche opportunity. A 60-million-gallon ethanol plant like Aemetis' Keyes facility could switch over say 33 percent of its production over the next 6 months or so, and the potential upside is very lucrative. So long as everyone doesn't jump into the market and crash the price. Which presumably they will.
Donation in the offing
Some producers are simply donating ethanol to support the community.
Today, we hear that two Iowa Renewable Fuels Association members sent the first donated shipment of Iowa ethanol and glycerin to the state of Iowa to be used by Iowa Prison Industries for the production of hand sanitizer during the national shortage. The donation is made by Iowa ethanol producer Absolute Energy and Iowa biodiesel producer Western Iowa Energy. The Iowa Renewable Fuels Association (IRFA) worked with Iowa Prison Industries to secure the shipment of these products and other necessary ingredients. Templeton Rye is also providing distilled water for the project. The finished product will be distributed free of charge by the state of Iowa for priority use.
Reaction from the stakeholders
"Aemetis is moving quickly to help address the significant demand for hand sanitizer products in light of the COVID-19 pandemic during this time of national emergency," said Andy Foster, President of Aemetis Advanced Fuels Keyes, Inc. "As the WHO and CDC strongly recommend the use of hand sanitizer products to help prevent the spread of Coronavirus, Aemetis is utilizing our ethanol production capability to address the current shortage of hand sanitizer by increasing the supply of high-proof alcohol used in the manufacturing of sanitizer products," said Foster.
Jim Lane is editor and publisher  of Biofuels Digest where this article was originally published. Biofuels Digest is the most widely read  Biofuels daily read by 14,000+ organizations. Subscribe here.