If 'food waste' was a country it would be ranked as the third largest emitter of greenhouse gas emissions in the world behind only China and the United States.  To reach this conclusion the World Resources Institute used food waste data in 2011, and considered agriculture inputs, food processing, land use, deforestation, food waste disposal, and landfill impacts.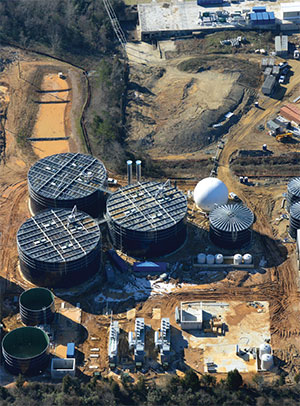 The carbon footprint of wasted food is a big one with cereals contributing about 35% of the greenhouse gas emissions even though is only about 19% of food waste volume.  Meat on the other hand is a small part of the food waste problem as it is not thrown away with as much frequency.  However, producing food for meat animals, handling animal manure, and all those belching cows cause meat to contribute as much as 20% of food waste emissions.
It is a messy business, but many believe discarded food should be considered a valuable resource and not waste.  The World Resources Institute reports that food waste in 2014 was estimated to hold a total of 2,142 petajoules of discarded energy, which is about 8% of the energy consumed annually around the globe.  As the world frets over global warming and the harm caused by combusting fossil fuels, it seems like an 8% contribution to energy needs makes a great deal of sense.
Blue Sphere (BLSP:  Nasdaq) operates waste-to-energy facilities in the U.S., Italy and The Netherlands.    Blue Sphere scrounges the country side for what others consider waste, including food scraps,  rejected produce, agriculture straw, livestock manure, and municipal waste.  The company uses industrial scale digesters to convert the organic material to electricity that is sold to local utilities through power purchase agreements.  Solid materials are converted to soil amendments and sold to local landscapers or farms.
Blue Sphere missed several deadlines in getting its North Carolina and Rhode Island operation up and running.  Investors were justifiably disappointed with the pace of progress.  However, Blue Sphere engineers finally got the digesters and generators for both projects going in late 2016.  The North Carolina plant is rated at 5.2 megawatts and Rhode Island is 3.2 megawatts.  The company is currently developing on yet another plant in The Netherlands that will produce biofuel and soil amendments.  The acquisition of five small waste-to-energy plants in Italy helped jump start aggregate electricity output for the company.
Investors who want to put capital into a food waste solution may find Blue Sphere an unpalatable choice.  The company stopped filing financial reports with the SEC in 2018 and its stock trades at sub-penny levels.  Despite its operational struggles and lack of success as a public company, Blue Sphere has proven that food waste has a value in energy production and that it is possible to reduce the massive economic drain that is created by the 'cult of perfection' that leads to a loss of 40% of the value in  the food supply chain.
Neither the author of the Small Cap Strategist web log, Crystal Equity Research nor its affiliates have a beneficial interest in the companies mentioned herein.
This article was first published on the Small Cap Strategist weblog on 10/25/19 as "Electrifying Food Waste."  This is part of a three part series on battling food waste.  The first two installments can be found here and here.