by Debra Fiakas, CFA
Renewable energy developer Eco Wave Power Ltd. is reportedly planning a public offering of its common stock in Sweden.  From its base in Israel, the company has developed proprietary technology to capture the energy in ocean waves and turn it into electricity.  Eco Wave has systems in place in Gibralar and the Jaffa Port of its home country.  Its pipeline of proposed projects encircles the globe through the United Kingdom, Scotland, Mexico and China among other countries.
With a building list of potential customers, Eco Wave needs capital. Management has disclosed that the 100 kilowatt wave energy installation in Gibraltar required $450,000 to build. However, most of its projects will be considerably larger.  Eco Wave has agreed to build a 5 megawatt plant also in Gibraltar, which is expected to have significantly higher price tag.  A plumper purse would provide working capital for construction and potentially allow Eco Wave to take equity positions in it is projects.  Even without that equity investment, a stronger balance sheet could help in discussions for project financing from banks.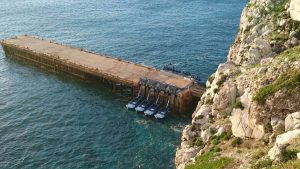 According to the financial information portal Crunchbase, Eco Wave Power has raised a total of $5 million in two separate rounds.  The company's most recent financing was a Series B round in 2017, which valued Eco Wave Power at $40 million. The valuation appears in line with an estimate $3.6 million in annual revenue with about 150 employees.  That implies $24,000 in revenue per employee and suggests the company is not yet profitable.
Reportedly the company is seeking $13 million to $18 million in new capital through the sale of common stock.   The offering circular is still under review by Sweden's Financial Supervisory Authority.
Sweden has become increasingly popular with European companies seek access to public capital markets.  Relatively low interest rates and moderate volatility have helped make the country attractive.  Historically, oil companies have figured prominently in Scandinavian markets.  However, there is increasing diversity that includes technology innovators such as software, biotechnology and engineering firms.  Sweden has four stock exchanges, including the Nasdaq's First North Sweden where Eco Wave Power is reportedly planning to list its securities.  Nasdaq's First North exchange has recently ranked just behind the London Stock Exchange for number of transactions per year.
When the offering prospectus is completed, investors will have a rare chance to read details about the technology and business of wave power generation.  The Eco Wave system relies on a flotation device that rises and falls with the ocean waves.  The flotation devices are attached by an arm or piston to stationery structures such as a pier or jetty.  For example, the system in the Jaffa Port in Israel is attached to a sea wall.  The floater's motion builds fluid pressure in a land-based generator that spins to create electricity.
Eco Wave Power has a deep patent portfolio to protect its innovations.  The protections cover not only the system design, but extend to the various mechanisms and structures.  The company has also sought protection for wave farm architecture that should help protect the company's ability to capture the value in electricity generation.
Wave power development has been frustrated by the sometimes hostile environment of the ocean.  Storms are sudden and violent.  Seawater is highly saline and corrosive.  The unique structure of the Eco Wave Power system means that only the flotation device and piston are located in sea water and all the other devices are located safely on land.  The flotation device and piston can also be pulled up out of the water when storms are expected or operators need access system features.  This helps reduce risk of damage and facilitates maintenance.  Capitalizing on existing land structures also helps to keep capital costs low.
The market opportunity for Eco Wave Power is impressive.  The World Energy Council estimates that in ocean bodies there is energy of as much as 32 petawatts per hour per year.  High capital costs and the frustrating operating environment have been too intimidating for most to pursue the chance.  Of the few companies with wave power technologies, all have struck out for the open ocean.  Eco Wave Power, with its floater system that hugs the shore line, may ultimately prove to have greater profit potential.  Those who participate in the initial public offering will have an ocean front view on the industry.
Neither the author of the Small Cap Strategist web log, Crystal Equity Research nor its affiliates have a beneficial interest in the companies mentioned herein.
This article was first published on the Small Cap Strategist weblog on 5/14/19.