SunPower Corporation (SPWR:  Nasdaq) has sent out an unusual mating call.  Like a bird with a newly built nest, the company is seeking a partner to help build out and operate SunPower's production facility in Hillsboro, Oregon.  The plant was acquired in late 2018, from SolarWorld Americas after the Trump administration slapped tariffs on solar panels imported to the U.S.  Domestic production, even at higher local costs, could make sense when compared to such prohibitive import tariffs.
Uncomfortable Three-some
Some investors might see the tie-up as an uncomfortable three-some. Indeed, the solar panel tariffs came about when SolarWorld Americas and its compatriot Suniva filed an application for protection under the Trade Act of 1974.  In January 2018, in response to SolarWorld's appeal the Trump Administration imposed a 30% tariff on all imported solar cells over 2.5 gigawatts.
SunPower was a quick and vocal critic of the maneuver for protection and the imposition of tariffs.  The company applied immediately for exemption from the tariffs.  SunPower argued that its back contact solar cells are significantly different from conventional silicon-based cells and therefore do not unfairly compete with U.S. producers.  In September 2018, just one month before SunPower and SolarWorld tied the knot, SunPower was granted exemption for several of its solar products that were being produced in Mexico and the Philippines.
Unfortunately, SolarWorld Americas was on the brink of bankruptcy and therefore not in a strong negotiating position with SunPower no matter how much shade SunPower might have cast on SolarWorld.  Now the fates of the two are now bound together.
Volume Production of Competitive New Product
The deal paves the way for SunPower to begin volume production of its innovative P-Series solar panel in Hillsboro.  The P-Series features parallel circuitry that minimizes losses when the panel is in partial shade or gets soiled.  The module sports a unique 'shingled' design with overlapping silicon cell strips connected with a conductive adhesive.  The design improves efficiency by tucking the electrical contacts under the overlapping part of the cell.  The shingled design eliminates spaces between cells and makes room for a higher number of cells in each panel.  Nearly all of the front side of the solar panel is covered by cells and solar exposure is maximized.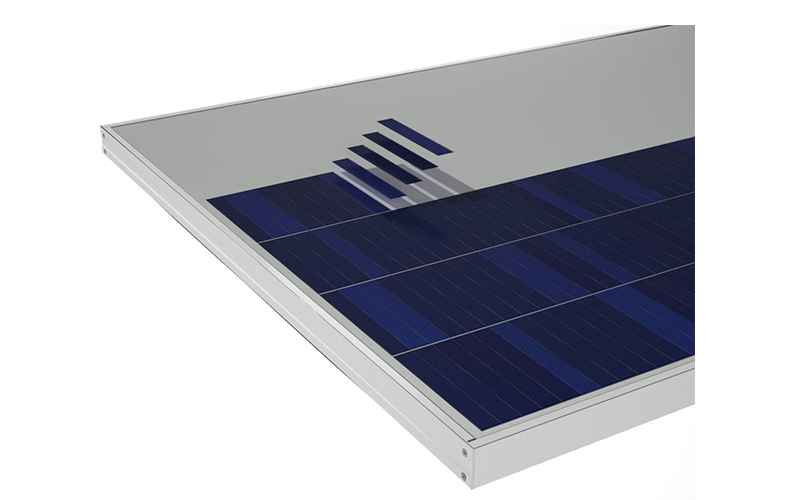 The technology used in the P-Series was developed by U.S.-based Cogenra, which SunPower acquired in August 2015.  The plan had been to acquire the intellectual property and then produce it in low-cost regions.  SunPower began zealously protecting its new asset, accusing rooftop solar panel developer SolarCity in 2016 for theft of the 'shingling' technique.  The suite was dropped a year later.
SunPower claims its P-Series reaches 19% efficiency.  This is below the level of its most efficient panel, the X-Series, which offers 22.2% efficiency. However, the P-Series is being sold at a considerably lower price per watt. Before the brouhaha over trade protection and tariffs, SunPower had estimated its price for the P-Series would be near $0.75 per watt.  This compares favorably with prices near $1.00 per watt for SunPower's X-Series.  The P-Series could be especially appealing for customers that need a smaller solar system built with high-efficiency, low-cost panels.
SunPower's appeal for exemption from U.S. solar panel tariffs also claimed that it would be necessary to divert capital from investment in production capacity and jobs to pay the tariffs, an outcome that would be deleterious to U.S. interests.  The company has already put its own capital on the line, paying $26 million for SolarWorld Americas and pledging another $4.1 million as a contingency for future performance.  Reportedly, SunPower wasted no time in gearing up for P-Series production in Hillsboro by looting its Mexicali facility for tools and equipment.
Capital Investment
SolarWorld America originally bought the Hillsboro complex from Japan's Komatsu Group.  Komatsu originally spent $400 million to build the 480,000 square foot facility in the early 1990s to produce wafers for its semiconductor products.  As the market fell out from under the semiconductor business, Kotatsu was forced to idle production.  In 2008, SolarWorld Americas bought the empty plant and completed renovations to make solar crystal, wafers and cells.  At the time it was the largest solar cell manufacturing facility in North America.
There is still work to be done in Hillsboro to prepare for volume production.  Thanks to SolarWorld Americas, the facility is ready to slice the solar cells into strips and arrange them in sections and, the steps to apply and etch the back surface 'passivation' layer for the rear contact have been put in place.   However, the unique shingled design required a different configuration to solder the overlapping cells.  At the beginning of February 2019, SunPower reported it had 200 workers on board and would need to add staff as production ramps.  The company is expected to begin fulfilling orders for the P-Series from U.S. customers beginning in March 2019.
Here is where investors need to pay close attention.  Early estimates suggested the P-Series could be produced for a capital cost near $0.20 to $.25 per watt, an impressive accomplishment for SunPower given that its other solar panels had a capital cost near $0.65 per watt.  That means that a $100 million investment could deliver more than 450 megawatts production capacity.  SunPower has also hinted that operating costs would be as much as 40% lower than its conventional solar panels.
If these numbers have held true, the cost structure of SunPower's new U.S. production facility makes for an interesting investment proposition, either as a joint venture partner or as a minority investor.  In the next post we look at SunPower's competitive position.
Neither the author of the Small Cap Strategist web log, Crystal Equity Research nor its affiliates have a beneficial interest in the companies mentioned herein.
This article was first published on the Small Cap Strategist weblog on 2/22/19 as "Sunpower's Mating Call."