Eamon Keane
Following the worst traffic jam in history this past August, Beijing has introduced significant curbs on cars. New car registrations will be slashed 70% to 240,000. Non-registered cars must have a permit and cannot travel at peak hours (7-9am and 5-8pm).
With 4.7m cars and a population of 22m, Beijing only has approximately 200 cars per 1,000 people. This is just half the level of cars in Mexico city with which Beijing is tied in IBM's "Commuter Pain Index". If you think LA is bad, Beijing is 4 times worse:
When rumours of the restrictions on car sales surfaced a couple of months back, new car purchases spiked dramatically and fights broke out as punters vied for cars. For the 120m Chinese households mainly clustered in coastal cities earning over $5,000 (the level at which car ownership becomes affordable), having a car, aside from the personal freedom it affords, is a sign that you've made it. Banned from owning a car up until the 1980s, Chinese citizens now want some of that private car goodness. Sales increased 46% in 2009 and a further 35% this year, to reach 18m.
Many other cities such as Guangzhou, Shanghai and Shenzhen are snarled up also. Chronic traffic and smog are just two reasons why China must not follow the car centric American/OECD culture. The Chinese road network is almost saturated with cars. One strategy is to frantically expand it and hope for the best. Yet here is a timely opportunity to redefine mobility for the globe's most populous country. The assumption in all energy forecasts is that Chinese car ownership continues to rise quickly: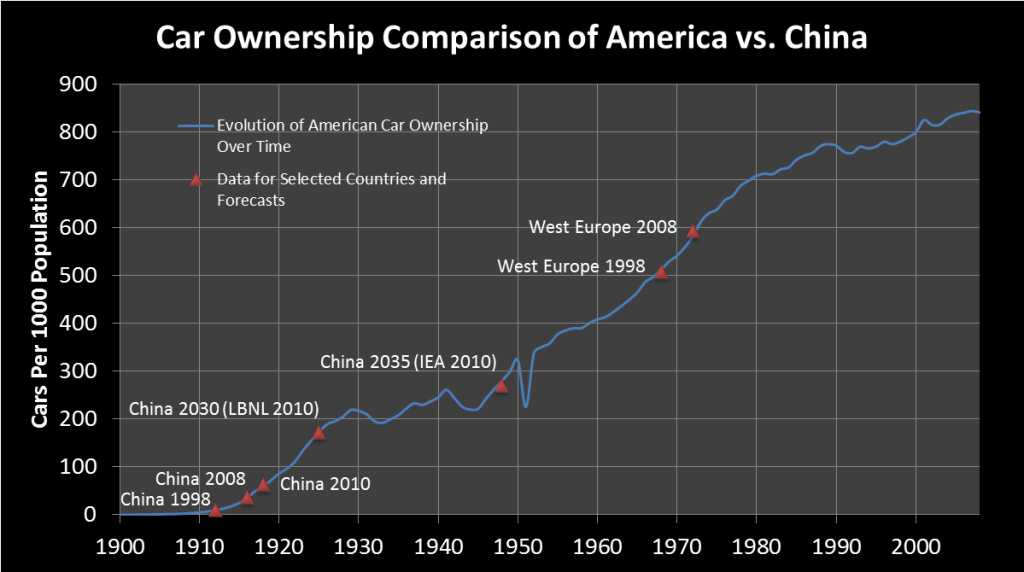 The growth in Chinese passenger car sales is the single largest growth factor for global oil demand over the next 20 years. The IEA states "Holding all other factors equal, a 1% per year faster rate of growth in car ownership in China alone would result in around 95 million more cars on the road in 2035 and 0.8 mb/d of additional oil demand".
There are some grounds for optimism. Several Chinese websites offer dynamic ridesharing and several cities have bus rapid tranist (BRT), a cheaper alternative to rail. The remarkable rise of electric 2 wheelers (E2W) in China, which occurred nowhere else, shows that things can be different. Chinese sales have soared from a few hundred in 1994 to around 22 million this year and may rise to 32 million by 2014. With around 120 million E2Ws in China, the Chinese are largely comfortable with electric drive. E2Ws took off in China for a couple of crucial reasons: (1) many cities curtailed gas mopeds due to air pollution, (2) E2Ws have a low total cost of ownership, (3) no licence was required and use of the cycle lane was permitted. E2Ws are subject to the 20/40 rule: max speed 20km/h, max weight 40kg. They're still faster than Beijing traffic.
Innovative and cheap EVs, with a modular market structure similar to E2Ws are being built by Kandi (KNDI). They are a great way to cut pollution and all the better if they are used for ridesharing in cities. They also help the Chinese government meet its lofty goal of 1 million EVs by 2015.
With sufficiently strong direction from government further supporting car alternatives (while suppressing cars), a rising oil price, and a terrible driving experience, the Chinese may yet avert their covetous gaze from OECD style private car ownership. They may even teach the West a thing or two – E2Ws are beginning to take off in Europe with sales this year of around 1 million.
Disclosure: No Positions